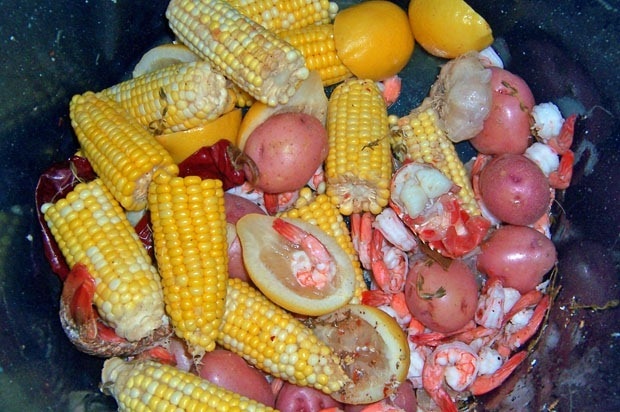 One summer bash I'll never forget was a coworker's crawfish boil party. Dennis and his roommates had 100 pounds of crawfish flown into Denver from Louisiana for the party and kept it in the bathroom tub on ice along with a few lobsters a few guests had brought. Each guest was asked to bring beer and $10 to share in costs.
Decorating was simple. On each newspaper draped table, there were large baguettes of French bread, butter, salt and pepper shakers, a bottle of Louisiana hot sauce, and a roll of paper towels. Once a batch was done, they would dump a mess of crawfish and corn on the tables. We'd stand around eating, pushing the used corn husks and crawfish shells to one side. Once everything was consumed, we'd gather up the newspapers, and throw the whole thing in the trash.
They used an outdoor propane burner to cook up the crawfish, and as the day went on the crawfish kept getting hotter and hotter due to the addition of more spices.  We drank a lot of beer to cool off and had a great time.
If you'd like to throw a crawfish boil party, check out How to Host a Crawfish Boil Party on ehow.com for a comprehensive guide along with some tips on how to find a live crawfish delivery service online.
A campground seafood boil summer bash
Since we spend much of our summer weekends RV camping, we do a smaller version of the crawfish boil. Instead of crawfish, we buy seafood at the grocery store on the way to the campgrounds and split the purchase with friends.
We usually do this on 4th of July weekend since that's also when we celebrate my husband's birthday. However, we did something similar with just lobster and shrimp for my mother-in-law's birthday. Nothing like fine dining when you're camping!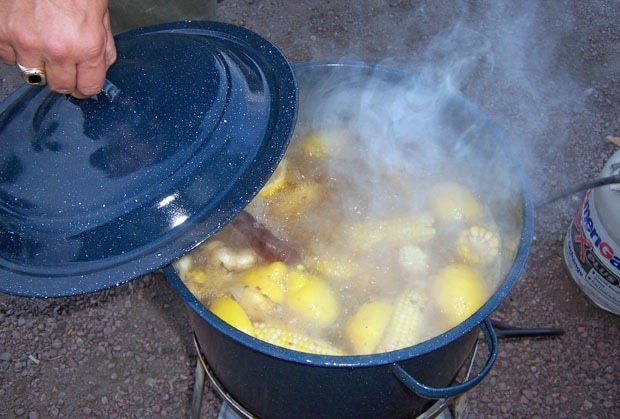 Seafood Boil with Corn and Potatoes
Recipe adapted from Martha Stewart's Shrimp Boil with Corn and Potatoes
Serves 6
Prep time: 10 minutes Total time: 45 minutes
Ingredients:
4 lemons, halved
6 bay leaves
1/2 cup plus 2 tablespoon Old Bay seasoning
2 large garlic heads, halved horizontally
6 medium onions, peeled and quartered
2 dried chilies
Coarse salt
16 springs fresh thyme, tied together with kitchen twine
1 pound clams
1 pound mussels
2 pounds of new red potatoes, unpeeled, halved if large
8 ears fresh corn, shucked and broken in half
2 pounds tail on shrimp, uncooked (frozen is o.k.)
6 lobster tails, uncooked (frozen is o.k.)
Butter, hot sauce and French bread for serving
Directions:
Fill a large stockpot with 4 quarts of water. Squeeze lemons into water and add rinds.
Add bay leaves, seasoning, garlic, onions, chilies, 1 1/2 teaspoons of salt, and thyme.
Bring to boil. Reduce heat, and simmer 10 minutes.
Add potatoes and simmer 12 minutes.
Add corn and simmer 5 minutes.
Add shrimp, lobster, clams and mussels to pot. Cover, and simmer until lobster is opaque, about 5 minutes.
Pour off liquid and serve out of the pot.
Serve with melted butter and/or hot sauce.
Squeeze and spread the cooked garlic on French bread.
Serve the corn and potatoes with butter and salt and pepper.

Orbit® gum is a global brand, enjoyed by millions of people around the world.  Chew Orbit after any meal to leave your mouth with "A Good Clean Feeling®". Eat. Drink. Chew™ Orbit! Like us on Facebook here.
______________________
Disclosure: Compensation was provided by Orbit® gum via Glam Media but such compensation did not influence any opinions expressed herein. The opinions expressed herein are those of the author and are not indicative of the opinions or positions of Orbit® gum.