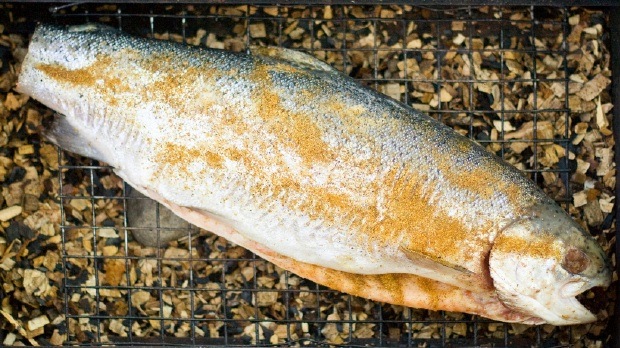 After camping at Stagecoach Lake near Steamboat Springs, Colorado, we usually come home with a cooler full of lake trout. One of my favorite ways to prepare trout is to smoke it our Masterbuilt Electric Smoker. This recipe is good for any type of fresh water lake fish. Once you've tried smoked fish, you'll never go back to grilling or baking it again!
What makes this method super easy is using World Harbors marinade, which I keep on hand just to make this dish. Last time I made this, I used World Harbors Maui Mountain Sweet 'N Sour marinade, which gave the fish a sweet, citrusy flavor. However, several of the World Harbors other marinades, like the Australian Style Bar-B or Maine's Own Lemon Pepper & Garlic would also be delicious.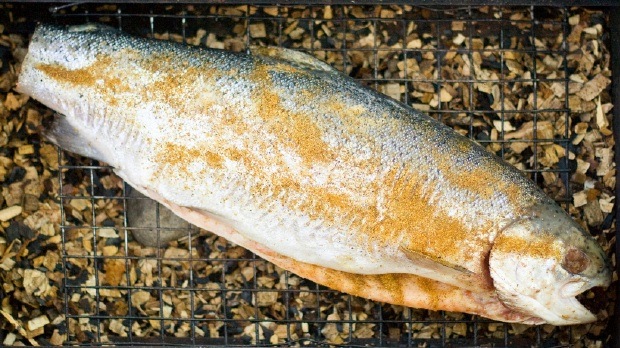 How to Marinate and Smoke Trout
The leftover smoked trout is terrific the next day either cold in a salad or combined with mayo to make a sandwich spread.
Ingredients
2 – 3

medium to large trout, cleaned (You can leave head and tail on or remove.) .

1 bottle

your favorite World Harbors marinade
Directions
Marinating Trout
Place cleaned trout in a large sealable plastic bag.
Empty entire bottle of marinade over the fish into the bag.
Seal bag and place fish in refrigerator for 8 to 10 hours up to 2 days.
Smoking Trout
Set your smoker to 150 degrees and use a mild wood such as pecan, apple, oak or alder. I used apple with World Harbors Maui Mountain Sweet 'N Sour marinade.
Spray your smoker grate with a high temperature cooking spray. Lay the trout directly on the smoker grate. There should be enough space between your trout so the smoke can reach all parts of the fish.
Let the fish smoke for 30 minutes at 150 degrees to dry the outside of the fish so that it can be firmer in the later stages of smoking.
After 30 minutes raise the temperature to 225 degrees to finish the smoking process.
Smoke until the fish reaches 145 degrees. If you go higher than this the fish will start to turn into fish jerky. Total cooking time usually takes 1 to 2 hours depending on size of your fish and how many you're smoking at one time.
To serve, remove skin, bones, head and tail and serve with slices of lemon.
Servings
:
Marinate enough fish to feed four people or have leftovers after feeding two.
Serving size:

1 fish per person
_____________________
Disclosure: Mizkan, the parent company of World Harbors, provided compensation for this post. All opinions are my own.