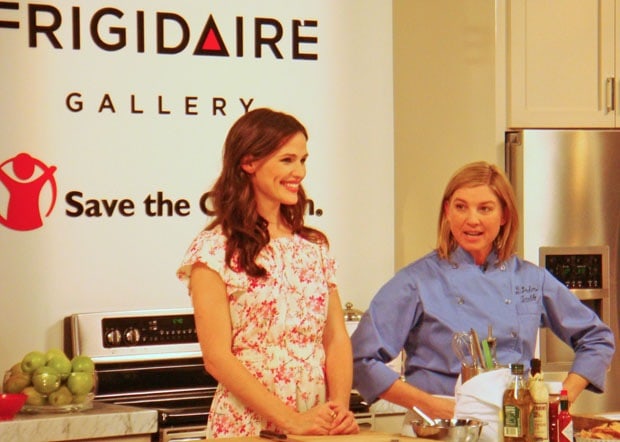 Last week my kids, Nathan and Lucie, and I flew out to Los Angeles to join several other bloggers and their families courtesy of Frigidaire. The kids were invited to cook alongside Jennifer Garner and Chef Mary Sue Millken. The event was a filmed at the world famous Smashbox Studios for the Make Time for Change - Frigidaire Kids' Good for You Cooking Academy campaign Frigidaire is doing to raise money for Save the Children.
The Frigidaire Kids' Good for You Cooking Academy just launched this month. It's an online school that features daily tips, fun recipes and how-to videos hosted by Chef Mary Sue. When parents join the Kids' Cooking Academy, Frigidaire donates $1 to Save the Children to help make sure that more children have access to healthy foods.
Cooking up a storm with Jennifer and Chef Mary Sue
The kids had a great time, though Lucie got a little bit frustrated that she couldn't quite keep up with Chef Mary Sue. (Both did a great job!) They were excited to meet Jennifer Garner who engaged both kids by asking them questions. She couldn't have been nicer and more down to earth - even in her 4 inch high purple heels!
My kids are used to cooking with their dad, who has no qualms about handing them a knife. (I won't go into the time he nearly chopped Lucie's finger off, ahem.) I don't have a tenth of the patience that he does and prefer that everyone stays out of the kitchen when I cook. Even so, I'm comfortable with having my kids get their own breakfast or snacks and let them use the the microwave and toaster. We even let Nathan, who is nearly 11, make us eggs on weekend mornings while my husband and I enjoy a dip in the hot tub.
One of the more enticing recipes the kids made was the Mexican Chopped Salad, which featured green garbanzo beans. I was really proud when Lucie started garnishing her salad (below) with red peppers to make it more attractive. Before long, I'll have to hire her to be my food stylist!
Even with my food sensitivities to corn and honey, I gave it a taste and it was delicious. Even the kids thought so, and they're not big salad fans. I also liked the Cauliflower "Popcorn" that was served to us at lunch by Chef Mary Sue's Border Grill staff. This would be an easy dish for me to substitute Galaxy Nutritional Food's Vegan Grated Topping for the parmesan cheese.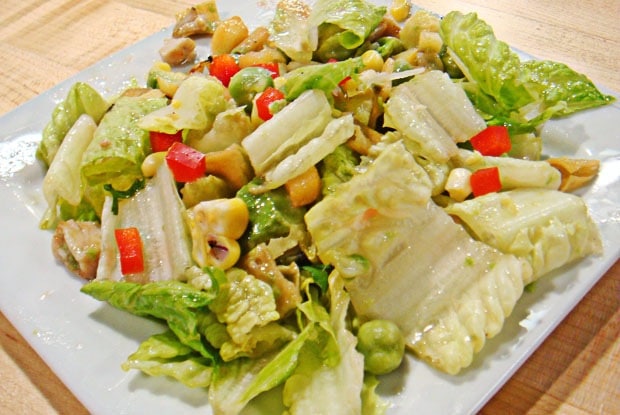 Mexican Chopped Salad
Cumin vinaigrette ingredients:
1 tablespoons cumin seeds (optional)
1/2 cup extra virgin olive oil
1/4 cup red wine vinegar
1 tablespoon honey, warm
1 1/2 teaspoons kosher salt, to taste
1/2 teaspoon freshly ground black pepper
Oven-Roasted Pepitas ingredients:
1 tablespoon freshly squeezed lime juice, to taste
A pinch of cayenne, to taste
Salt and freshly ground black pepper, to taste
1/2 cup raw pepitas (hulled green pumpkin seeds), unsalted
Salad ingredients:
1 head romaine lettuce, cut into 1/2-inch strips
1 1/2 cups diced leftover grilled chicken or turkey (optional)
1 1/2 cups canned garbanzo beans, drained and rinsed
1 large or 2 medium apples, peeled and diced (Granny Smith, Pink Lady, or Honeycrisp)
1 cup corn kernels (from grilled corn on the cob, or canned or frozen corn sautéed in olive oil)
1 poblano chile, roasted, peeled, seeded, and diced*
1 California avocado, halved, seeded, peeled, and diced
1 small red onion, diced (optional)
1 tablespoon chopped cilantro
1 cup crushed corn tortilla chips
Cumin vinaigrette directions:
Toast the cumin seeds in a small, dry frying pan over medium heat for 1 to 2 minutes, shaking frequently.
Transfer to a blender along with other vinaigrette ingredients. Puree until smooth.
Chill until ready to serve.
Pepitas directions:
Preheat oven to 350 degrees F.
In a small bowl, combine lime juice, cayenne, salt, and pepper and stir until dissolved.
Add pepitas, toss thoroughly, and transfer to a baking sheet.
Bake until golden, about 10 to 12 minutes.
Remove from oven and cool on the pan. Serve at room temperature.
Salad directions:
In a large bowl, combine all salad ingredients.
Add Cumin Vinaigrette to taste. Toss until well-coated.
Sprinkle with pepitas and serve immediately.
* Fresh chiles can be roasted over a gas flame or under the broiler. Keep turning so skin is evenly charred, without burning the flesh. Transfer charred chiles to a closed plastic bag and steam 10 to 15 minutes. Pull off charred skin by hand and dip briefly in water to remove blackened bits. Once peeled, cut away stems, seeds, and veins.
Copyright © 2011, Mary Sue Milliken and Susan Feniger, www.bordergrill.com
Cauliflower "Popcorn"
Ingredients:
1 head cauliflower
3 tablespoons extra virgin olive oil
Salt, to taste
Freshly ground black pepper, to taste
1/2 cup grated parmesan cheese
Preheat oven to 425 degrees F.
Cut the cauliflower into small florets, about the size of cherry tomatoes. In a bowl, toss florets with olive oil and season with salt and pepper. Lay in a single layer on a baking sheet and roast in oven until the bottoms of florets touching the pan are golden brown, about 10 to 12 minutes.
Remove from oven and transfer to a large bowl. Sprinkle on parmesan cheese and toss thoroughly. Serve immediately in paper cones like popcorn.
Copyright © 2011, Mary Sue Milliken, www.marysueandsusan.com
_________________
Disclosure: My family's participation in Frigidaire's Kids' Kids Good-for-You Academy was sponsored by Frigidaire who provided us with travel, food and lodging. The kids were also given their chef whites, a kids cookbook, and a kids cooking set to thank them for participating in the event. I received a cookbook.