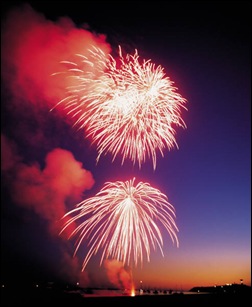 When learning to eat healthy, you're always told to "eat your colors." Well, with Independence Day just around the corner, why not go with a red, white and blue theme when making a healthy summer salad for your picnic or cookout?
Yes, you can incorporate our national colors into healthy eating – just ask the folks at Tossed®, a growing chain of restaurants that serves made-to-order salads and crepe wraps featuring over 50 fresh ingredients and homemade dressings.
Healthy red food
Grape Tomatoes – One cup of grape tomatoes contains 57% of your vitamin C and promotes colon and prostate health. Other nutrients include vitamin A, vitamin K, fiber, and potassium. Their disease-fighting power addresses cancer, heart disease, osteoporosis, diabetes, and hypertension,
Strawberries – One cup of strawberries contains 136% vitamin C value and are a heart protective fruit, an anti-cancer fruit and anti-inflammatory fruit all rolled into one. They also contain riboflavin and folate and help fight cancer, act as an anti-inflammatory and support heart health.
Apples – One cup of apples contains 15% of the daily value of fiber, 13% vitamin C value and is good for supporting good heart health. Eating apples supports good heart health, cancer prevention and lower asthma symptoms.
Healthy white food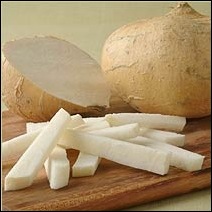 Jicama – One cup (raw) contains 24% of your daily value of Vitamin C, rich in folic acid, and boosts the immune system. It's also packed with fier, potassium, iron, and calcium. The goodness in jicama helps fight heart disease and helps subside symptoms of asthma.

Egg Whites – I love eating egg whites for their protein value. One cup of egg whites contains 26 grams of protein, and the egg whites in one large egg contain 4 grams of protein. Egg whites also contain essential minerals including potassium, calcium, iron and zinc, contains no fat, cholesterol and no carbohydrates as well as riboflavin and B12. But did you know that eating egg whites is good for your heart, too?
Tofu – It's rich in calcium, protein and iron, a good vegetarian substitute of protein, contains omega-3 fatty acids, reduces bad cholesterol in the body, promotes colon health, and is a good source of B bitamins and iron. Tofu is believed to support heart health and cancer prevention.
Healthy blue food
Blueberries – OK, blueberries may be a bit more on the purple side. Still, one cup of contains 15% of the daily value of Vitamin C, and 14% of daily fiber. Blueberries are the fruit with the highest ORAC value and contains the most health protecting antioxidants of all of the fresh fruits and vegetables. They also contain viamins A, C, E, and K potassium and magnesium. Blueberry consumption helps promotes heart and brain health as well as cancer prevention.
Healthy red, white and blue salad recipes