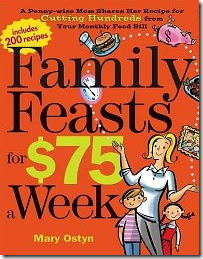 Family Feasts for $75 a Week is written by Mary Ostyn, a mom of 10 who blogs at Owlhaven. Her book is filled with tips on how to food shop guerilla-style, like creating a price book – a notebook filled with prices of all the various food and household items you usually buy. So you don't feel overwhelmed, she gives you step-by-step instructions on how to pace yourself.
In her Efficient Cooking, Good Eating chapter, Mary gives tips for menu planning, using leftovers and dealing with picky eaters She's a big advocate of beans and includes a detailed chart on the various types and their cooking times. She's also into stocking up, so there are quite a few pages on storage and freezing.
However, what really stands out for me is the over 200 recipes for home cooked meals that make the most of economical ingredients. Again, like Dollars to Donuts, it's not about making meatloaf and dumping cans of condensed soup on stuff. (Mary's against convenience foods as she feels they're too expensive.)
Instead, there are recipes for homemade Mexican, Asian, Middle Eastern and even Ethiopian food, as well as classics like blueberry muffins and lasagna. There's also a few slow cooker recipes for you crockpot fans, and many recipes for sauces, salad dressings, and spice mixes along with some canning recipes. (Yes, there are desserts, too!)
For those of us trying to eat healthy and lose weight, you'll have to use your common sense and use healthier substitutes. For example, Lighter Vegetable Lasagna could be made with a low carb, whole wheat pasta and low or no fat cheeses. Doing so may be a little more expensive, so consider it an investment in your health and well being.
Running the recipes through a nutritional recipe analyzer, like the one offered at CalorieCount will help you fit recipes from Family Feasts for $75 a Week into your food plan, too.
Win a copy of Family Feasts for $75 a Week
Here's how to enter my giveaway:
Leave your name, email address, and blog URL (if you have one) in the comments below for ONE entry.
If you have a blog, feel free to post about this contest on it for ONE entry.
Sign up for This Mama Cooks! Review's RSS feed for ONE entry.
Sign up for my enewsletter for ONE entry.
Spread the word about this giveaway by submitting a link to this post on Twitter for ONE entry. You must leave your Twitter username in your comment so I can check.
If you have done any of these activities you MUST come back here and leave a comment telling me what you did. I will be checking!
Maximum amount of entries at This Mama Cooks! is FIVE – leaving a comment here (1), posting about it on your blog (1), signing up for my enewsletter (1), signing up for my RSS feed (1), and using Twitter (1).
You have until midnight MT on Monday, July 5, 2010 to enter.
ONE winner will be chosen at random.
You must be willing to send me your full name and mailing address so I can send it to Mary so she can mail out your book.
I will also announce the winner on this blog. I will not share your mailing info with the public, just your name. If you have a blog, I will link back to it when I announce the winners.
The giveaway is valued at $17.95 and is only open to legal residents of the United States 18 years of age and older. No purchase required. Up to FIVE entries per person. ONE book will be given away. Void where prohibited by law. By submitting your name and email address, you agree to receive relevant promotional emails and contest follow up communications from This Mama Cooks! Reviews and This Mama Cooks! On a Diet in compliance with my privacy policy and giveaway rules.
____________________
Disclosure: I was sent one review copy of Family Feasts for $75 a Week by Mary to review.