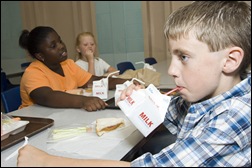 My children attend a YMCA summer camp at a local elementary school. They're served lunch by the school district as part of a summer nutrition meal program where all kids under the age of 19, no matter what their need, eat for free. Many moms are taking advantage of this - just another sign of how parents are looking to cut their grocery bill this summer.
Other ways families can save money are by meal planning, coupon clipping, and doing once a month or freezer meals, where you cook in bulk. Another way is to buy (or borrow from the library) some budget meal cookbooks. I'll be featuring several of these cookbooks this week and next here at This Mama Cooks!
From Dollar to Donuts – save money and eat well
Now you may wonder how healthy or low calorie some of the recipes are in Dollars to Donuts: Comfort Food and Kitchen Wisdom from Route 66's Landmark Rock Cafe. Frankly, I had a prejudice again budget cookbooks, thinking that they'd rely on a lot of cheap, processed foods like canned soup or feature dishes covered in cheap cheese. Instead, Dawn Welch's recipes rely on basic ingredients like lean meats and vegetables. Plus, she has you making your own sauces instead of buying them at the store, which is not only cheaper but healthier!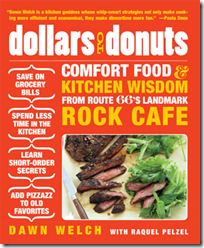 Since no nutritional information is given in Dollars to Donuts, you'll have to plug the recipes into a nutritional recipe analyzer, like the one offered at CalorieCount. Still, at first glance you'll find some healthy choices like Jerk-Style Chicken Thighs & Charred Pineapple Salsa, Fajitas on the Fly, or Couscous with Dried Fruit, Butternut Squash & Turmeric. Of course, you can always "healthify" the recipes by substituting items like brown rice for white, or cutting back on salt, oil and butter.
Dollars to Donuts also features a lot of "high end" and ethnic recipes – everything from grilled salmon to pad thai to gazpacho. None of that meatloaf and green bean casserole type cooking here!
Each recipe comes with an overall price, plus a price per serving, based on consumer price averages from the Department of Labor along with average supermarket prices from across the country. Your cost may be higher or lower depending on sales and what grocery stores charge in your area.
Dawn also includes symbols that indicate if a recipe can be made ahead of time, is kid-friendly, are super quick or easy to make, or are good for freezing. She also gives lots of money saving tips throughout the book.
Check out the Dollars to Donuts blog for some sample recipes.
Eating seasonally with Dollars to Donuts
Dawn's summer vegetable ragout is a great way to use up veggies from your CSA or garden – or to take advantage of seasonal sales at the grocery store or farmer's market. She recommends serving it on pasta, ravioli, rice or crusty bread. If you want, you can either broil or grill the vegetables. She says, "Grilling adds an extra-special layer of smoke and char to the ragout."
Summer Vegetable Ragout
Serves 6
$11.70 or $1.95 per serving
1 pound eggplant (globe, Italian, or Japanese), trimmed and sliced lengthwise into 1/2"-thick planks
1 1/4 teaspoons salt + extra for pasta
1 pound zucchini or summer squash, trimmed and sliced lengthwise into 1/2"-thick planks
2 tablespoons olive oil
4 cups marinara, homemade or store-bought
1 pound green beans, trimmed and sliced into 1" pieces
2 fresh tomatoes, cored, seeded, and cut into 1" pieces
1 pound farfalle or rotini pasta or cheese ravioli
2 tablespoons finely chopped fresh basil
Parmesan cheese, for serving
Directions:
SALT THE EGGPLANT. If using a globe eggplant, place the slices in a colander and toss with 1/2 teaspoon of the salt. Set aside for 30 minutes (skip this step if using Italian or Japanese eggplant). Rinse and pat dry.
BROIL THE EGGPLANT AND ZUCCHINI. Adjust an oven rack
to the top position and heat the broiler to high. Toss the eggplant and zucchini with the olive oil and the remaining 3/4 teaspoon of salt in a large bowl. Arrange cut-side down on a baking sheet in a single layer and broil until browned
but still firm, about 4 minutes on each side. Set aside until cool, then roughly chop into 1" pieces. (You can also grill the eggplant and zucchini.)
MAKE THE RAGOUT. Place the marinara in a large saucepan and bring to a simmer over medium-high heat. Stir in the eggplant and zucchini alonq with the green
beans and tomatoes. Bring the sauce back to a simmer, reduce the heat to medium-low, cover, and cook until the green beans are just tender, 7 to 10 minutes.
BOIL THE PASTA. Bring a large pot of salted water to a boil. Add the pasta and cook until al dente. Drain and set aside. Taste the ragout and adjust the seasonings if needed; stir in the basil. Serve the ragout over the pasta
with some grated Parmesan.
Nutritional information per serving (without the Parmesan):
Calories 516
Calories from Fat 97
Total Fat 10.8g
Saturated Fat 1.9g
Trans Fat 0.0g
Cholesterol 3mg
Sodium 1184mg
Total Carbohydrates 93.5g
Dietary Fiber 13.5g
Sugars 21.3g
Protein 15.9g
Vitamin A 37%
Vitamin C 59%
Calcium 9%
Iron 14%
Nutrition Grade A- from CalorieCount
Weight Watchers POINTS = 10
This Mama's Tips:
Cut back on salt and olive oil to reduce sodium content and fat grams.
Substitute a high fiber pasta like Ronzoni Smart Taste, Dreamfields or Atkins for regular pasta - or use brown rice instead.
Reduce the amount of pasta and increase the amount of vegetable ragout to reduce calories and carbs.
_______________
Disclosure: I was sent a copy of Dollars to Donuts to review.