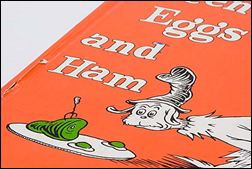 True mom confession time – I'm very lax at getting my kids to read during the summer. Or should I say getting my son Nathan to read. He has begrudgingly trudged his way through every book he's ever touched from Hop on Pop to Harry Potter. Luckily, my daughter, Lucie, loves to read even though I limit the amount of books she can take out of the library. Truly, no one needs to check out 20 Magic Rainbow Fairy books at a time.
During the summer, all parents need to make an effort to get their kids to chill with a book. According to Carol H. Rasco, president and CEO of Reading Is Fundamental (RIF), the nation's largest children's literacy nonprofit, "Motivating children to read throughout the summer is essential to building lifelong readers. And reading is the doorway to all other learning."
With that in mind, how do you convince your kids to build reading time into their summer plans? Fortunately, RIF has come up with a number of ideas to help you make this summer a season of reading including partnering with Scholastic's Summer Challenge.
Cooking up some green eggs and ham
I suggest combining cooking activities with books. For example, you can read Dr. Suess' Green Eggs and Ham and make the dish with your kids. Sure you can put some food dye in scrambled eggs and serve it up with a slice of deli meat. But why not try something a little more sophisticated from Top Chef Master's Jody Adams? (Tips for making the dish healthier and more kid friendly are at the bottom of the post.)
Roasted asparagus with green eggs and ham
By Chef Jody Adams of the RIALTO restaurant in Cambridge, Massacheusetts
Serves 4
Ingredients:
4 extra large eggs
1 cup roughly chopped parsley leaves
¼ cup roughly chopped celery leaves
1 tablespoon roughly chopped tarragon
¼ cup chopped capers
2 anchovy fillets, rinsed and roughly chopped
Zest of ½ lemon
¾ cup extra virgin olive oil
1 ½ celery stalks, peeled and cut into 1/8 inch dice
1 cloves garlic, grated on a microplane
1 pound asparagus
8 slices prosciutto
1 cup of small leaf lettuces such as arugula or mache
Directions:
Put the eggs in a small saucepan and cover with cold water. Set the saucepan on the stove over high heat. Bring the water to a boil, and then immediately remove the pan from the heat. Allow the eggs to sit in the hot water for 8 minutes. Transfer to a bowl of ice water to cool. Peel under running water and coarsely chop. The yolks should be bright yellow and creamy.
Combine the parsley, celery leaves, tarragon, capers, anchovies and lemon zest in the robot coupe with ½ cup extra virgin olive oil. Process to a rough paste. It should not be a smooth puree. Transfer to a bowl with the celery and garlic, season with salt and mix until well combined. Mix in the rest of the oil if necessary. Taste and adjust seasoning. Add the eggs.
Preheat oven to 400°.
If the asparagus are large, snap off the fibrous portion off the root end of the stems. Peel the remaining part of the stem. If the asparagus are pencil thin, simply snap the ends.
Toss the asparagus with 2 tablespoons extra virgin olive oil and season with salt and pepper. Arrange on a sheet pan in a single layer. Roast in the oven, 4-5 minutes, or until the asparagus are tender and start to brown.
To serve, arrange 2 slices of prosciutto on each of 4 plates. Lay the asparagus on top. Spoon the green eggs over the asparagus. Garnish with argula or mache.
Nutritional information per serving:
Calories 503
Calories from Fat 423
Total Fat 47.0g
Saturated Fat 7.6g
Cholesterol 203mg
Sodium 755mg
Total Carbohydrates 7.9g
Dietary Fiber 3.6g
Sugars 3.2g
Protein 15.5g
Vitamin A 50%
Vitamin C 47%
Calcium 10%
Iron 29%
Nutrition Grade B+ from CalorieCount 
Weight Watchers POINTS = 13
Tips for making green eggs and ham cheaper, healthier and more kid friendly
Instead of hard boiling 4 eggs, hard boil 8, throw out the yolks and only use the egg whites.
Omit the anchovies. They add a lot of sodium and many adults and children don't care for them.
Some people also don't like capers, but I've found that kids think they're kind of neat.
If you're leaving out the capers and anchovies, add a little more parsley and celery leaves to the paste and add a smidge more salt if needed.
Instead of pricey prosciutto, use some lean ham slices. I suggest using Applegate Farms Organic & Natural Meats. I've been able to find it at Super Target and King Soopers (Krogers). It's the only deli meat we use.
Use less olive oil. Still use 1/2 cup in the paste, but you don't need any to saute the asparagus. Instead, use a little cooking spray.
Revised nutritional info
(8 egg whites, 1/2 cup of olive oil, no anchovies, and lean ham)
Calories 367
Calories from Fat 261
Total Fat 29.0g
Saturated Fat 4.2g
Trans Fat 0.0g
Cholesterol 25mg
Sodium 982mg
Total Carbohydrates 8.0g
Dietary Fiber 3.6g
Sugars 3.3g
Protein 21.3g
Vitamin A 46%
Vitamin C 47%
Calcium 7%
Iron 24%
Nutrition Grade B+ from CalorieCount 
Weight Watchers POINTS = 9
More healthy cooking with kids activities and recipes
Healthy cooking with Tinker Bell and the Lost Treasure
March is Reading Month: read and cook with your kids – with a list of Little Home on the Prairie recipes, literary companion cookbooks for kids, and reading resources