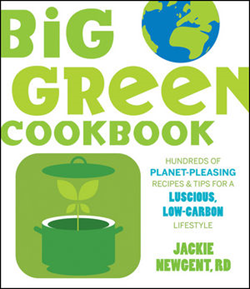 I recently sat in a webinar about greening your kitchen with Big Green Cookbook author Jackie Newgent. I'm pretty good about recycling and composting. (When my electric composter is working. It's broken – again.) I buy locally grown produce and organic food, we have a garden, and my husband hunts and fishes. However, I never thought about cooking in a manner that would reduce my carbon footprint.
The Big Green Cookbook: Hundreds of Planet-Pleasing Recipes and Tips for a Luscious, Low-Carbon Lifestyle is an environmentally climate-conscious cookbook for both inexperienced or expert cooks. The book features:
A green kitchen checklist
Over 200 easy-to-prepare recipes that feature fresh, all-natural foods
Guidelines for going organic and tips for buying locally
Nutrition information and earth-friendly cooking tips with every recipe
Techniques for low-carbon cooking (for example turning off the burner and using the residual heat to finish cooking your food)
An eco-friendly shopping guide and seasonal produce guide
The cookbook is divided into seasons and features everything from snacks to salsas, to soups, salads, vegetarian dishes, meat based dishes, drinks and dessert. Each recipe comes with nutritional information, along with "little green cooking" tips, and other eco-friendly tips about eating local or recycling.
Beet Carpaccio Salad
Makes 4 servings
I love getting thinly sliced beet and goat cheese salads at restaurants since they're delicious. However, I never make them at home because I don't want to bother with roasting the beets.
Jackie suggests using the microwave oven to "micro- roast" the beets. Not only will the beets be easier to make, but you'll be saving energy, too.
Ingredients:
3 medium beets with greens
1 fresh apricot or small nectarine, pitted, diced
2 tablespoons extra-virgin olive oil
2 tablespoons aged balsamic or red wine vinegar
5 ounces organic or locally produced soft goat cheese, crumbled
1/3 cup coarsely chopped raw walnuts
1/4 teaspoon freshly ground black pepper, or to taste
Directions:
Trim off the beet greens about 1 inch above the root. (Reserve leaves for another use.)
Place the scrubbed beets into a large microwave-safe dish. Cover well with unbleached parchment paper. "Micro-roast" (cook in the microwave oven) on high until beets are easily pierced with a knife, about 10 minutes. (Microwave cooking times vary.) Keep covered and set aside until cool enough to handle.
Peel the skins with a paring knife. Cut the beets into about 8 slices each.
Arrange the beet slices on a platter. Line the platter with some of the beet greens, if desired. Sprinkle with the apricot. Drizzle with the oil and vinegar. Sprinkle with the cheese and walnuts. Add pepper. Serve warm or chilled.
Nutritional information per serving (1/4 of recipe):
240 calories, 20g total fat, 7g saturated fat, 0g trans fat, 15mg cholesterol, 160mg sodium, 7g total carbohydrate, 2g dietary fiber, 9g protein
Weight Watchers POINTS = 6
Little green cooking tip:
Put that microwave oven to work. Beets, potatoes, and sweet potatoes can be "micro-roasted" just as tastily as they can be oven- roasted or baked. And due to faster cooking times, the microwave oven can reduce energy use by about two- thirds compared with
This Mama's tips:
Saute the beet greens in a little olive oil and then drizzle vinegar over them for a warm greens salad.
If beet greens aren't your thing, compost them!
Kids might think that beets are yucky. Tell them eating beets will turn their pee pink. (Really!) Potty humor to try beets? You bet!