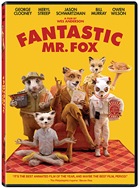 When you present a child with a fancy meal, you know they'll probably like it. However, the fine dining experience will most likely go over their head. That's how I feel about the Fantastic Mr. Fox, a beautiful, family film based on the story by Roald Dahl that was recently released on DVD and Blu-ray.
At times the movie reminded me of Ocean's 11 and the Usual Suspects with a little Sopranos and Glengarry Glen Ross thrown in, but without the bad language of course. (Mr. Fox says "cuss" instead of using a cuss word.)
The movie is rated PG and there is some violence when the farmers try to kill the animals and Mr. Fox gets his tail cut off. Also, Mrs. Fox is referred to as the town tart (before she got married) which may need some explaining to curious youngsters.
(BarnesandNobles.com has terrific DVD "What Parents Need to Know" guides thanks to Common Sense Media.)
My children enjoyed it, especially my 10-year-old son who didn't move off the bed once while watching it in my room. However, only an adult could truly appreciate the wonderful stop action photography, the dialogue, and miniature sets. (George Clooney's voice as Mr. Fox was very nice, too. Sigh.) It bears repeat watching to take in all the details.
Mr. Fox gets foodie
So why am I reviewing Fantastic Mr. Fox on a food blog? After all, it's not a food related kid's movie like Ratatouille or even Princess and the Frog. And no, it's not because Meryl Streep's in it (she's the voice of Mrs. Fox) though after seeing Julie & Julia, her name is always joined with Julia Child's in my mind.
After doing a little research about the movie, thanks to Opening Ceremony I found out that Mario Batali does the voice of Rabbit and provides inspiration for the character down to his orange Crocs!
(Mario's looking pretty good these days. I was worried about how large he was getting when I saw him cooking on Iron Chef last season. According to Diets In Review, he's lost 45 pounds mostly from portion control. If you've read Heat: An Amateur's Adventures as Kitchen Slave, Line Cook, Pasta-Maker, and Apprentice to a Dante-Quoting Butcher in Tuscany, you know that the man can seriously put away the food and is known to drink wine by the case.)
Well, last Thanksgiving, Mario's PR people sent out a cute little package of recipes to various bloggers. I didn't get one but PR Mama, Stephanie Smirnov did and shares the PDF here. This classic Brussels sprouts recipe caught my eye.
Brussels Sprouts with Pancetta
Recipe courtesy of the Babbo Cookbook
Serves 4-6 as a side dish.
Ingredients:
Kosher salt
1 1/2 pounds Brussels sprouts
1/2 pound pancetta, cut into 1/2-inch cubes
1 teaspoons finely chopped fresh thyme
1 teaspoon finely chopped fresh parsley
Freshly ground black pepper
Directions:
Bring 6 quarts of water to a boil and add 2 tablespoons of salt.
Set up an ice bath nearby.
Cook the whole Brussels sprouts in the boiling water for 2 minutes, then
drain and plunge into the ice bath.
Once they have cooled, drain the sprouts, trim off the tough ends, and cut in half lengthwise.
In a 12- to 14-inch saute pan, heat the pancetta over low heat until most of the fat has been rendered and the cubes are crispy, 8-10 minutes.
Remove the pancetta from the pan with a slotted spoon and reserve.
Drain all but 2 tablespoons of the fat. Add the Brussels sprouts to the pan
and cook over medium heat until tender, 6-7 minutes.
Return the pancetta to the pan and add the thyme, parsley, and salt and pepper and serve immediately.
Tips:
If you cannot find pancetta, substitute with a lean bacon or ham.
To reduce calories and fat, reduce the amount of pancetta by half.
Cook up the sprouts in a little bit of bacon grease and olive oil to get the flavor of this recipe, but not the fat and calories.
_____________________
Disclosure: All links to Barnes & Nobles are affiliate links. A commission may be earned from a referred sale to their website.I received a review copy (not a retail copy) of the movie from Click Communications.