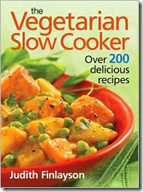 This high fiber and protein and low in Weight Watchers POINTS recipe comes from The Vegetarian Slow Cooker: Over 200 Delicious Recipes by Judith Finlayson. She believes that more people than ever are choosing to reduce their consumption of meat for health, environmental and financial reasons. Instead, they're choosing to eat diets rich in vegetables, legumes, whole grains, and fruit. 
Louisiana Ratatouille
Eggplant, tomato and okra stew is a classic Southern dish that probably owes its origins to the famous Mediterranean mélange ratatouille. One secret to a successful result, even on top of the stove, is not overcooking the okra, which should be added after the flavors in the other ingredients have melded.
Serves 6
For a medium, approximately 4 to 5 quart slow cooker
Ingredients:
2 medium eggplants, peeled, cubed (2 inches/5 cm), sweated and drained of excess moisture
2 tablespoons (25 mL) oil
2 onions, finely chopped
4 cloves garlic, minced
1 teaspoon (5 mL) dried oregano
1 teaspoon (5 mL) salt
1⁄2 teaspoon (2 mL) cracked black peppercorns
1 can (28 oz/796 mL) tomatoes with juice, 1 coarsely chopped
2 tablespoons (25 mL) red wine vinegar
1 pound (500 g) okra, trimmed and cut into 1-inch (2.5 cm) lengths, about 2 cups (500 mL)
1 green bell pepper, diced (1⁄4 inch/0.5 cm)
Directions:
In a skillet, heat oil over medium-high heat. Add eggplant, in batches, and cook, stirring, until lightly browned. Transfer to slow cooker stoneware.
Reduce heat to medium. Add onions to pan and cook, stirring, until softened, about 3 minutes.
Add garlic, oregano, salt and peppercorns and cook, stirring, for 1 minute.
Stir in tomatoes with juice and red wine vinegar and bring to a boil. Transfer to slow cooker stoneware.
Cover and cook on Low for 6 hours or on High for 3 hours, until hot and bubbly.
Add okra and bell pepper. Cover and cook on High for 30 minutes, until okra is tender.
Tips:
Okra, a tropical vegetable, has a great flavor but it becomes unpleasantly sticky when overcooked. Choose young okra pods, 2 to 4 inches (5 to 10 cm) long, that don't feel sticky to the touch (if sticky, they are too ripe). Gently scrub the pods and cut off the top and tail. Okra can also be found in the freezer section of the grocery store. Thaw before adding to slow cooker.
Place cubed eggplant in a colander, sprinkle liberally with salt, toss well and set aside for 30 minutes to 1 hour. If time is short, blanch the pieces for a minute or two in heavily salted water. In either case, rinse thoroughly in fresh cold water and, using your hands, squeeze out excess moisture. Pat dry with paper towels and it's ready for cooking.
If you are halving this recipe, be sure to use a small (approx. 1-1⁄2 to 3-1⁄2 quart) slow cooker.
Make ahead directions:
Complete Steps 1 to 4.
Cover and refrigerate for up to 2 days.
When you're ready to cook, complete the recipe.
Nutritional information per serving:
Calories 150
Calories from Fat
Total Fat 5.3g
Saturated Fat 0.7g
Trans Fat 0.0g
Cholesterol 0mg
Sodium 406mg
Total Carbohydrates 24.8g
Dietary Fiber 10.4g
Sugars 10.4g
Protein 5.0g
Vitamin A 41%
Vitamin C 108%
Calcium 11%
Iron 9%
Nutrition Grade A from CalorieCount
Weight Watchers POINTS = 3
________________
Disclosure: All links to Barnes & Noble are affiliate links. A commission may be earned from a referred sale to their website.