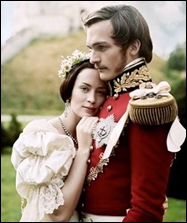 After viewing The Young Victoria (recently released on DVD), I thought it would be a splendid movie to  watch with friends while enjoying a Victorian themed meal.
It's kind of a chick flick – lots of gorgeous settings, elaborate costumes, and a sigh inspiring, romantic love story between the teenage Queen Victoria (Emily Blunt) and the oh so handsome Prince Albert (Rupert Friend). You may want to leave the men folk at home for this dinner party. After all, asking your husband, "Why aren't you romantic like Albert?" and him replying, "I would be if you were as rich as the Queen," would spoil all the fun.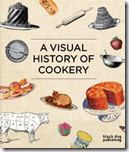 According to A Visual History of Cookery (a book you must own if you love culinary history) the "notion of new elegant dinner parties held in the home was by the Victorians." It was a way for the middle class to display their wealth while the gentlemen of the household discussed business and politics with guests. There was a lot of etiquette involved like white candles, fine table cloths and massive amounts of silverware.
Aren't you glad that those days are over and we can invite our gal pals over with the only requirement that they dress comfortably and bring a bottle of their favorite adult libation?
A healthy Victorian menu
Dinners with Famous Women: From Cleopatra to Indira Gandhi
 by Eugenia Van Vliet is a culinary history cookbook. Each chapter provides a menu and recipes for a full course dinner inspired by these women of history. Since I was expecting heavy food with lots of creamy sauces, I was pleasantly surprised to see that parts of the menu Eugenia created were fairly healthy – the Sorrel Soup, the Salmon in Elderberry Sauce, the Duck Breasts with Cherries and Mint, and Cucumbers Braised with Onions
You can read the chapter at Google Books and see the recipes for yourself. My favorite was the duck recipe, which you could also make with leaner chicken breasts - just be careful not to overcook them!
Duck Breasts with Cherries and Mint
Serves 6-8
Ingredients:
4 duck breasts

2 cups red wine

1 cup chicken stock

2 tablespoons cherry jam

2 cups cherries, stems removed and pitted

1/8 cup shredded mint leaves

Salt and pepper to taste
Directions:
Preheat the oven to 400°F.

Season the duck breasts with salt and pepper. Prick the skins all over with a fork.

Place the duck breast on a rack, with a roasting pan underneath. Roast until brown on the top, about 15 minutes.

Remove the roasting pan and pour off most of the fat. Place on oven burner, set at medium high heat.

Add the wine and deglaze. Let the wine boil until thick. Add the chicken stock and boil, until reduced by half. Add the jam and the cherries. Simmer for a few
minutes. Stir in the shredded mint.

Carve the duck breasts into serving portions and place on dinner plates. Spoon the cherry sauce on top.
Approximate nutritional information from CalorieCount:
Calories 282
Calories from Fat 49
Total Fat 5.5g
Cholesterol 0mg
Sodium 134mg
Total Carbohydrates 13.2g
Dietary Fiber 1.0g
Sugars 9.0g
Protein 29.8g
Weight Watchers POINTS per serving (5 ounces of duck) = 6
_______________
Disclosure: I was sent review copies of The Young Victoria and A Visual History of Cookery. I own a copy of Dinners with Famous Women. All opinions are my own.