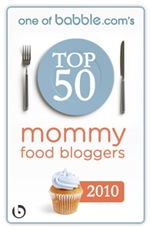 I've just been chosen as one of Babble's 50 Best Mom Food Bloggers! Not only that, but I'm #8 in the Top 10 Healthiest Eating Mom Blogs.
All I can say is, "Oh my, I'm incredibly honored!"
To be mentioned in the same breath as  Steamy Kitchen, The Pioneer Woman Cooks, Almost Bourdain or Smitten Kitchen with their gorgeous food photography – especially when I'm such a lazy photographer – is humbling.
(It's also makes me want to work on my picture taking efforts a little more. Talk about a literal kick in the pants for motivation.)
Check out the lists for:
You can also vote for Who do you like? for a favorite mom food blogger who isn't on the list.