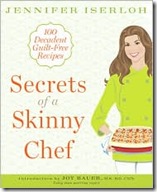 I recently received a review copy of Jennifer Iserloh's Secrets of a Skinny Chef. It's a wonderful cookbook for those who are starting to prepare meals in a healthy way for themselves or their families.
Secrets of a Skinny Chef features  recipes for classic comfort food like sloppy joes and beef stoganoff or higher end fare like crab cakes. She even covers desserts like tiramisu and cheesecake.
All of Jennifer's recipes come with nutritional information and are made with every day ingredients, though she likes to introduce readers to more unusual ones like sriracha. Her chapters on how to use leftovers and make no mess, stress-free meals and snacks are helpful for busy dieters and families. My only complaint is that I'd like to see more full color, glossy pictures.
Since attending the Good Egg Project's Farm to Table Tour earlier this month, eggs have been on my mind. Luckily, Easter is just around the corner and eggs are on sale. So what better time of the year to cook up a healthy egg dish from one of Jennifer's recipes. I like this one because you can eat it in the car or take it to work with you.
Scrambled Eggs to Go
Serves 4
Ingredients:
2 eggs
3 egg whites
1/4 cup plain, fat-free Greek yogurt
1/2 teaspoon mild chili powder
1/4 teaspoon freshly grated nutmeg
1/4 teaspoon freshly ground black pepper
Nonstick cooking spray
4 mini whole wheat pitas, toasted
1/2 cup baby spinach leaves
4 tablespoons taco sauce
Directions:
Place the eggs, egg whites, yogurt, chili powder, nutmeg, and pepper in a small bowl. Whisk until the yogurt is well incorporated into the eggs.
Heat a small skillet over medium-high heat. When the skillet is hot, coat it with a layer of cooking spray. Add the eggs and cook 30 seconds, until a light brown crust starts to form. Pull the cooked edges of the eggs toward the center of the pan and cook 30 seconds more. Flip the eggs and cook an additional 30 seconds until the eggs are cooked through. Remove from the heat.
Line each pita with one-fourth of the spinach.
Distribute the egg mixture among all the pitas and top with taco sauce.
Serve immediately or wrap in foil and take on the road.
Tip:
Nutritional information:
Per serving ( 1 1/2 cups + 1 pita): 139 calories, 10 g protein, 18 g carbohydrates, 3.3 g fat (1 g saturated), 106 mg cholesterol, 2 g fiber, 338 mg sodium
Weight Watchers POINTS = 3
_____________________
Disclosure: All links to Barnes & Nobles are affiliate links. A commission may be earned from a referred sale to their website.