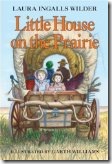 When our kids are little we read stories to them almost every night. However, as they learn to read, we stop doing this shared family activity. It's a shame since reading and discussing stories are a great way to keep the lines of communication open and active.
One way to recapture this is to plan family cooking activities around the stories your kids are reading. How do you do this? Well, sometimes the books do it for you and all you have to do is follow along and get a little creative.
For example, in many Core Knowledge based schools like the one my children attend, Little House on the Prairie
is assigned reading in fourth or fifth grade. Luckily, the Little House books
come with a companion cookbook, The Little House Cookbook: Frontier Foods from Laura Ingalls Wilder's Classic Stories
. It's a great reference and family activity tool since much of the Little House stories center on the gathering, hunting, growing, cooking, preserving, and eating of food.
Little House on the Prairie family activities
Discussion points:
The Little House books show how hard it was to be a pioneer. Unlike today, there were no supermarkets, no fast food restaurant, or take out. If you didn't work hard, you didn't eat. What were some of the ways people gathered food then? How do we get food now?
If you lived back then, what kind of things would you be doing to help your parents around the farm and house?
Could you imagine living miles away from your nearest neighbor or town without a car? How long would it take you to get to your best friend's home on foot?
Activities:
Make one of the recipes from the The Little House Cookbook or from the list below.
Visit a pioneer museum.
Pick vegetables, fruit or berries at a farm.
Plant a garden.
Go fishing, hunting, or camping.
Cook outdoors in a park or in your back yard.
Visit a working dairy or farm.
Forage for edible plants in your area.
See how easy that is? It's all about fitting books into your life and finding time to spend with your kids cooking and reading.
Little House on the Prairie recipes
Literary companion cookbooks for kids
Don't stop at Little House. There are many children's cookbooks based on fairy tales and books by authors like Dr. Suess and Roald Dahl.
More March is Reading Month Resources
____________
Disclosure: All links to Amazon.com are affiliate links. A commission may be earned from a referred sale to their website.