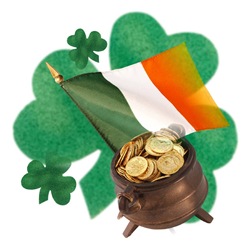 I look forward to having corned beef and cabbage on St. Patrick's Day even though it's high in fat and calories. (Every ounce of lean corned beef brisket has 53 calories and 2.2 grams of fat. Check the label to see what type you're buying.)
To make it my slow cooker corned beef and cabbage a bit healthier, I'll  be adding more veggies like cauliflower along with those potatoes and carrot. I'll also serve the vegetables as the main course, use the corned beef brisket as a side dish, and flavor the meat with Dijon mustard instead of the horseradish sauce from the recipe below.
I've also substituted no fat Greek yogurt for the crème fraiche in the original recipe. You can also use no fat sour cream.
Here are more tips on keeping lean and green this St. Patrick's Day.
Slow Cooker Corned Beef and Cabbage
Prep Time: 5 min
Cook Time: 7 hr 20 min
Makes 10 servings
Ingredients:
4 pounds lean raw corned beef brisket
3 tablespoons pickling spice (often included with brisket)
1 medium rutabaga, halved and cut into wedges
1 pound large carrots, cut into 4-inch pieces
1 1/4 pounds large fingerling potatoes
1 leek, white and light-green parts only, cut into 3-inch pieces
1/2 head cabbage, cut into wedges
1/3 cup horseradish, drained
1/3 cup no fat Greek yogurt or sour cream
Directions:
Place the corned beef in a large Crockpot or slow cooker and scatter the pickling spices on top. Layer the rutabaga, carrots, potatoes and leek in the cooker (in this order for even cooking).
Add enough hot water (4 to 5 cups) to cover the meat by at least 1 inch, put the lid on the slow cooker and cook on high, 7 to 8 hours.
Remove the meat and vegetables from the slow cooker and keep warm.
Put the cabbage in a microwave-safe dish with 2 cups cooking liquid from the slow cooker, cover and microwave until tender, 7 to 10 minutes.
Meanwhile, boil another cup of cooking liquid in a small skillet until reduced by half, about 10 minutes. Mix with the horseradish and Greek yogurt or sour cream in a small bowl.
Slice the corned beef and serve with the slow-cooked vegetables, cabbage and sauce.
Reserve about a quarter each of the meat and vegetables and 1 1/2 cups cooking liquid for Corned Beef Hash.
Nutritional information
One serving is about 6 1/2 ounces of corned beef per serving, veggies and horseradish sauce:
Calories 550
Calories from Fat 315
Total Fat 35.0g
Saturated Fat 11.6g
Trans Fat 0.0g
Cholesterol 178mg
Sodium 2139mg
Total Carbohydrates 22.1g
Dietary Fiber 4.9g
Sugars 7.7g
Protein 35.9g
Nutrition Grade B from CalorieCount.com
Weight Watchers POINTS = 12