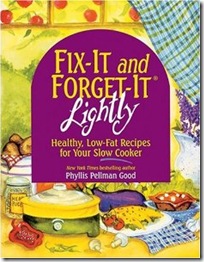 This crockpot recipe is based on a New Mexican style dish by Jeanne Allen in the cookbook, FIX-IT and FORGET-IT LIGHTLY: Healthy, Low-Fat Recipes for Your Slow Cooker
.
Machaca meat is used to stuff tacos, burritos, enchiladas, or is eaten by itself. I liked serving it "soupy" on brown rice. According to David Bulla at TexasCooking.com,
Machaca in its traditional form is the Mexican equivalent of beef jerky. It is basically beef that has been marinated, cooked, shredded and dried.

In Tex-Mex cuisine, an adapted version of the traditional machaca is a staple that can be served alone with tortillas and taco fixings, or as the basis for many other dishes. Many people still call it machaca, yet it also shows up on menus as shredded beef.
In my version, I decided to add a sweet potato to the mix just for the nutritional heck of it.
Slow Cooker Machaca Beef
Makes 12 servings
Ingredients:
2 lb. lean beef roast
2 small onions, sliced
1 large sweet potato, skinned and cut into cubes
4 oz. can chopped green chilis
enough beef broth to cover roast
1 1/2 tsp. dry mustard
3 garlic cloves, minced
3/4 tsp. seasoning salt
1/2 tsp. black pepper
1 cup salsa
Directions:
Combine all ingredients except salsa in your 4-6 quart crock-pot or slow cooker.
Cover and cook on low for 10-12 hours or until beef is tender.
Drain and reserve liquid.
Shred beef using two forks to pull it apart.
Combine beef, salsa, and enough reserved liquid to make the desired consistency.
Use this filling for burritos or tacos.
Nutritional info per serving based on using a lean beef:
Serving Size 210 g
Calories 177
Calories from Fat 48
Total Fat 5.3g
Saturated Fat 2.0g
Cholesterol 67mg
Sodium 620mg
Total Carbohydrates 5.5g
Dietary Fiber 1.3g
Sugars 2.0g
Protein 25.4g
Vitamin A 38%
Vitamin C 6%
Calcium 3%
Iron 17%
Nutrition Grade A- from CalorieCount.
Weight Watchers POINTS = 4
Tips:
You can use venison or buffalo instead of beef.
For a low sodium seasoning salt, try NutraSalt Robusto Adobo seasoning. I received a free sample of this from the company, and have been using it in many of my Mexican dishes.