Coffee isn't just for decadent desserts like Julia Child's Chocolate Mousse and Mexican Cream, you know. You can use it to make Braised Beef in Espresso in your slow cooker or Chocolate Espresso Whole Wheat Bread.
This recipe uses it as a rub for steaks.I tried the espresso rub with venison backstraps (similar to beef tenderloins) and it was FANTASTIC!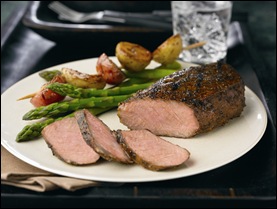 Courtesy of The Beef Checkoff
Total recipe time: 35 minutes
Makes 4 servings
Ingredients:
4 beef tri-tip steaks, cut 1 inch thick (about 6 ounces each)
Salt
Green onions, lemon wedges, freshly grated lemon peel (optional)
Espresso rub:
2 tablespoons finely ground espresso coffee beans
1 tablespoon garlic pepper
2 teaspoons brown sugar
1 teaspoon ancho chili powder
Instructions:
Combine espresso rub ingredients in small bowl.
Press generously onto beef steaks. Discard any remaining seasoning mixture.
Place steaks in glass dish. Cover and refrigerate 1 hour.
Place steaks on grill and cook until done.
Carve steaks into slices. Season with salt to taste.
Garnish with green onions, lemon wedges and lemon peel, if desired
This Mama's espresso rub
I didn't have all the ingredients on hand for the rub and the brown sugar in my cupboard was rock hard. Instead, I came up with a slightly different version:
2 tablespoons finely ground espresso coffee beans
2 teaspoons garlic powder
2 teaspoons organic sugar (you could also use Sugar in the Raw)
2 teaspoons chili powder
2 teaspoons NutraSalt Robusto Adobo low sodium sea salt
Tips:
Sprinkle the rub over the meat instead of dunking it in the rub, so you can save the unused portion for another time. Store in the freezer to keep the spices and espresso fresh.
If you have a large amount of meat to cook, double or triple the recipe.
You can tweak this recipe to your own liking. Just taste a pinch as you're adding this or that to see if you like it.
Serve with steamed or sautéed asparagus and baby potatoes. Instead of potatoes, try quinoa or whole wheat couscous.
Nutritional information per serving depends on the cut of meat you're using. With venison, one ounce equals one Weight Watchers POINT.
Try as a rub for when you're making barbeque or smoking pork or beef brisket.
More about beef