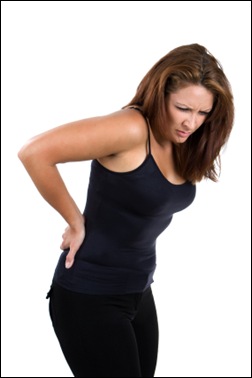 Today's guest post by Diane Raymond is about sciatica – something I've been dealing with for the past couple of months.
Sciatica…oh what a pain!
If you have ever suffered from sciatica, or lower lumbar problems, you understand the excruciating, sometimes immobilizing pain associated with flare-ups. Often recognizable by an acute pain in your derrière that also radiates down into the lower leg, sciatica can cause muscle weakness, tingling, numbness, and of course, wicked pain.
According to the American Association of Neurological Surgeons, more than 65 million Americans that suffer from lower-back pain, such as sciatica, will have a recurrence of the pain within one year. (American Assoc. of Neurological Surgeons, 2000.) Therefore, seeking medical attention is the first step toward alleviated that nagging pain, as well as preventing its return.
Diagnosing and treating the pain
The sciatic nerve is the longest nerve in the entire body. It runs from the lower back, through the hip and buttocks, then down each of your legs. Its job is to control a variety of muscles in the legs. If a medical professional diagnoses you with sciatica, the direct cause of the problem will often be the first step toward treatment. When you experience sciatic nerve-related pain, the true culprit is actually the pressure being placed on the nerve, rather than the nerve itself.
So to alleviate the pain, you must first relieve the pressure on the nerve. Again, good reason to seek a medical professional, who can determine if the pain is caused by spinal stenosis, a herniated disk, injury, or piriformis syndrome. A professional can diagnose the cause based on where you feel the pain.
For example, do you feel pain from the lower back to the knee? Or, is the pain along the inside of your calf down to the bottom of the foot? Is your pain tingly, or pins/needles? Based on your feedback, a course of treatment may include physical therapy, yoga, Pilates, stretching, and medication, or a combination of any of these.
Generally, exercises that strengthen the lower back and abdominals, improve posture, and increase flexibility in the hip and knee joints (and muscles surrounding them), are targeted. Athletes aren't immune to sciatica problems, especially if their sport causes tightness in the hips and hamstrings. With this in mind, stretching the piriformis muscle, located deep within the gluteal muscles, is good practice for both relieving sciatic nerve pain, as well as preventing it.
Stretch it out!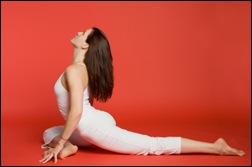 To stretch the piriformis muscle, start on hands and knees. Bring your left foot in front of your right knee until the outer left thigh is resting on the floor (knee is still bent) and the left foot is under your pelvis.
Slide the right leg back, keeping the thigh toward the floor as much as possible, until the leg is straight behind you. This will look like the splits, but the front leg is bent underneath you.
Beginners: Sit up straight, pull your lower abdominal muscles in as though you are zipping up pants, and using your arms for balance, hold the stretch for 15-30 seconds.
To achieve a deeper stretch, you can lean forward over the front, bent leg, and if possible, place your forearms on the floor in front of the bent leg.
To achieve maximum benefit from this stretch, do 2-3 sets, holding each stretch for 15-30 seconds.
Practice prevention every day
When sitting for long periods of time, be sure to stretch every half-hour to 45-minutes.
If you stand for large chunks of time, try placing one foot on a stool to alleviate the pressure on the spine. Switch feet every 15-20 minutes.
Make stretching a part of your exercise routine and address muscle tightness as soon as possible with stretches targeting tight/sore areas.
Stay active. Inactivity can make back pain even worse.
Please check out Diane's other guest post, How to pick a personal trainer.
___________________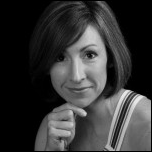 Diane Raymond is the Founder of Blue Sky Gym, a personal training business specializing in outdoor and in home personal training, lifestyle and weight management coaching, workshops and educational resources. She is a noted consultant, workshop presenter and freelance writer. Check out her daily musings about training, health, and personal fitness at Blue Sky Gym blog and Fit Girl in the City. You can also find her on Twitter or Facebook.
Like what you've read? Sign up for Diane's free, monthly E-zine at blueskygym.com.