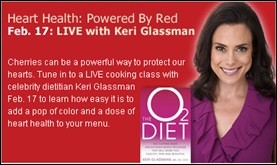 If you're interested in learning how high ORAC (Oxygen Radical Absorbance Capacity) value foods like cherries can help keep your heart healthy, go to the Cherry Marketing Institute's website at 1 p.m. EST, Wednesday, February 17th, for a live heart-healthy cooking class by Keri Glassman, MS, RD, CDN, dietitian and author of the book, The O2 Diet: The Cutting Edge Antioxidant-Based Program That Will Make You Healthy, Thin, and Beautiful
. For every person who participates, the Cherry Marketing Institute will donate $1 (up to $5,000) to the American Heart Association for American Heart Month.
I'm giving away one copy of The O2 Diet. Enter my giveaway here.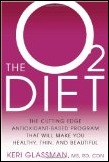 I had been reading The O2 Diet
before I found out about Keri's online cooking class, and am now even more excited about trying out her way of eating. The book starts off with an explanation of the diet, which is based on the ORAC scale of values determined by the USDA that measure how well a food protects against free radicals.
Free radicals are believed to be the culprits behind many forms of cancer, heart disease, and the symptoms of aging. The thinking is that eating a high-ORAC diet will prevent cancer and heart disease and slow down the aging process by strengthening memory and cognition and improving skin tone and elasticity. Furthermore, a high ORAC value diet should also aid in weight loss, which makes sense since you would eat mostly vegetables and fruit on such a diet.
The O2 Diet
starts with a four day cleanse consisting of lean proteins like salmon and eggs and high ORAC value foods like blueberries, artichoke hearts and green tea. You should lose two to five pounds while receiving about 57,300 ORAC points per day. The O2 Diet
then gives you a four-week plan builds to build on your initial success and get you used to including high ORAC value foods in your diet.
Like other diets, it IS about eating healthy, using portion control, getting in your water, and exercising. However, I liked that Keri advocates in getting a good night's sleep (at least seven to eight hours), pampering yourself with facials and scrubs (recipes included in the book) and even getting romantic with your partner.
The book is filled with recipes, tips on how to eat out, menus and shopping lists. You can also download a life journal, shopping list and an ORAC guide on Keri's website, which also includes reviews, recipes and excerpts from her book.
Win a copy of The O2 Diet
I'm giving away one copy of The O2 Diet
to a lucky reader!
Giveaway closed. Congrats to Cyn S.!
Here's how to enter:
Leave your name, email address, and blog URL (if you have one) in the comments below for ONE entry.
If you have a blog, feel free to post about this contest on it for ONE entry.
Sign up for This Mama Cooks! Review's RSS feed for ONE entry.
Sign up for my enewsletter for ONE entry.
Spread the word about this giveaway by submitting a link to this post on Twitter for ONE entry. You must leave your Twitter username in your comment so I can check.
If you have done any of these activities you MUST come back here and leave a comment telling me what you did. I will be checking!
Maximum amount of entries at This Mama Cooks! is FIVE – leaving a comment here (1), posting about it on your blog (1), signing up for my enewsletter (1), signing up for my RSS feed (1), and using Twitter (1).
You have until midnight MT on Monday, February 22, 2010 to enter.
ONE winner will be chosen at random.
You must be willing to send me your full name and mailing address so I can mail out your book.
I will also announce the winner on this blog. I will not share your mailing info with the public, just your name. If you have a blog, I will link back to it when I announce the winners.
The giveaway is valued at $24.99 and is only open to legal residents of the United States 18 years of age and older. No purchase required. Up to FIVE entries per person. ONE book will be given away. Void where prohibited by law. By submitting your name and email address, you agree to receive relevant promotional emails and contest follow up communications from This Mama Cooks! Reviews and This Mama Cooks! On a Diet in compliance with my privacy policy and giveaway rules.
____________________
Disclosure: I was sent two review copies of The O2 Diet
, one from the publisher's PR person to review, and another by the Cherry Marketing Institute to thank me for agreeing to check out the online cooking class this week. Publicizing the event on my blog was was my idea and was done voluntarily.
All links to Amazon.com are affiliate links. A commission may be earned from a referred sale to their website.