We all know that it's important to be prepared in case of an emergency particularly when it comes for caring for our kids. Yet most of us haven't taken an infant or child CPR certification course, thinking that it would take too much time or be too expensive.
Well, if you're living in the Denver area, the Mile High Chapter of the Red Cross is making it easy by offering once-a-month Infant & Child CPR Certification courses for $50. Use the special coupon code – BLOGGER – to get a 15% discount off the course.
The classes take place in Westminster or Denver either on weekday evenings or weekend mornings. The course is one session of five hours and the price includes course materials.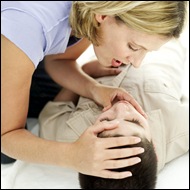 In each Infant & Child CPR Certification course, you'll learn how to:
Identify how to respond to emergency situations by checking to see if it is safe to intervene.
Identify the three general steps in the emergency action plan.
Identify how to use your community's emergency medical services (EMS) system effectively.
Demonstrate how to check a conscious or an unconscious infant or child.
Recognize the signals of a breathing or cardiac emergency.
Learn how to care for an infant or child who has stopped breathing.
Recognize the signs and symptoms of a breathing emergency.
Identify how to reduce the risk of injury to children and infants.
Care for an infant or child who is choking.
Perform CPR to an infant or child who shows no signs of circulation.
This would make a great class to take together with your significant other or your child's grandparent or adult care giver.
Red Cross babysitter training classes
The Mile High Chapter of the Red Cross also offers Babysitter Training Courses. You may want to enroll an older sibling or favorite babysitter since these courses are for kids 11 to 15 who need the information and skills necessary to providecare for younger children in the absence of parents or adult guardians. The course will help them develop skills in:
leadership and professionalism
basic child care
safety and safe play
first aid
These classes are offered more frequently in various locations around the Denver area. The class is seven hours and costs $60. You can also use the BLOGGER coupon code to receive 15% off the class.
____________
Disclosure: The Red Cross Mile High Chapter asked me to help out to increase awareness and participation in their courses. I was not compensated for this post.