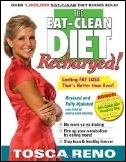 I've enjoyed dipping into The Eat-Clean Diet Recharged: Lasting Fat Loss That's Better than Ever
over the past couple of weeks. Tosca's philosophy is that we need to eat the way nature intended – lean protein, complex carbs, and healthy fats – no processed foods and lots of water. She believes that when you Eat Clean, you body functions the way it's supposed to and you will feel and look better and lose weight.
Many of us fall off the eating healthy or dieting wagon because of cravings. By following the Eat Clean way of life (it's NOT a diet) your blood-sugar levels remain stable and you'll feel more satisfied. Best of all, by Eating Clean and paying attention to portion control (and allowing yourself to indulge once in awhile) you will lose weight and feel full of energy.
Get recharged!
The Eat-Clean Diet Recharged
has 17 chapters, which may seem overwhelming at first. However, it's full of colorful pictures, summaries, Tosca's personal story, and entertaining testimonials from people who lost weight and felt better by Eating Clean. It's a fast and enjoyable read.
The beginning of the book deals with the Eat Clean way of eating principles where Tosca lays out the plan of eating six meals a day, combining lean protein with complex carbs at each meal, and drinking lots of water! She believes that nutrition plays a huge part (80%) of how we look or feel, with only 10% due to genetics and 10% to training (exercising).
She then shows you how you can to reclaim your life, become the leaner version of you, and get out of your comfort zone to make healthy changes. Then The Eat-Clean Diet Recharged turns to the practical – how to shop clean and eat clean on the road or in party situations. 
Tosca then tackles exercise and body issues – cellulite, loose skin and what she calls saggy bits. (Yes, she does discuss her breast implants, which I was glad to see.) There are also chapters on longevity and superfoods. I especially liked the superfood chapter since she covers things I'm already cooking with like flaxseed, mushrooms, yogurt, game meats, and quinoa. I've already started Eating Clean and didn't know it.
The daily Eat Clean food plan explained
The best part of the book come at the end – the menu plans (including gluten-free and vegan ones) and shopping lists. These are the tools you need to start Eating Clean.
Tosca goes into detail on how to do a cooler plan, basically how to pack a cooler with a day's worth of food in proper portions. There are three cooler plans 1) hardcore eating for rapid results, 2) strict eating for best long term results, and 3) getting used to the idea of Eating Clean. Then she has one week meal plans for each type of cooler plan.
Finally, there are 50 new recipes with gorgeous photos. If you're thinking of slowly dipping your toe into the  Eating Clean way of life – and bringing your family with you – try cooking up her Meal-in-a-Bowl Soup (page 330), Caribbean Chicken (page 348) or African Potatoes & Beans (page 358). You and your family will realize how easy and delicious Eating Clean is and want to embrace the lifestyle further.
More from Tosca
You may also want to check out: