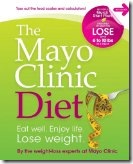 The Mayo Clinic Diet: Eat Well, Enjoy Life, Lose Weight
by the weight-loss experts at the Mayo Clinic and Donald Hensrud, M.D., M.P.H. is a no nonsense approach to healthy eating and weight loss. It's the only diet developed at the Mayo Clinic and uses a common sense approach to losing weight and keeping it off.
The book is packed with meal plans, tips for overcoming challenges, advice on how to start an exercise plan, and practical suggestions on how to make lifestyle changes. This beautifully laid out and easy to read book comes with a companion book The Mayo Clinic Diet Journal. Each day you record your goals, what you ate, the day's activities, a way to track what you ate from the food pyramid and a motivation tip.
Best of all, I'm giving away a copy of both! (See below for giveaway details.)
Action Guide to Weight-Loss Barriers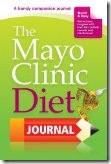 Long term success with a weight program sometimes follows a bumpy, uneven path. Many obstacles can keep you from achieving a more healthy weight. Learning to identify potential roadblocks and confront personal temptations is an important part of being successful in losing weight. To make it past the rough spots, it's important to have strategies ready to guide your response as problems arise.
This easy-to-use action guide identifies common weight-loss barriers and practical strategies for overcoming them. If you find a strategy that helps you, include it with your weight-loss program.
The barriers are grouped into three categories: nutrition, physical activity and behaviors. To lose weight — and to maintain that weight loss — it's important that you address all of these components.
Behaviors obstacle – I've tried to lose weight before, but it didn't work. Now, I don't have confidence that it'll work this time.
For many people, losing weight will be one of life's most difficult challenges. Don't be discouraged if you've tried losing weight in the past and you weren't able to — or you lost weight but gained it all back. Many people experiment with several different weight-loss plans before they find an approach that works. 

Strategies – following these tips may help you succeed this time around:
Think of losing weight as a positive experience, not a negative one. Approaching weight loss with a positive attitude will help you succeed.
Set realistic expectations for yourself. Focus on behavioral changes and don't focus too much on weight changes.
Use problem-solving techniques. Write down the obstacles that you experienced in previous attempts to lose weight, and come up with strategies for dealing with those obstacles.
Make small, not drastic, changes to your lifestyle. Adjustments that are too intense or vigorous can make you uncomfortable and cause you to give up.
Accept the fact that you'll have setbacks. Believe in yourself. Instead of giving up entirely, simply start fresh the next day.
Behaviors obstacle – I eat when I'm stressed, depressed or bored. 
Sometimes your most intense longings for food happen right when you're at your weakest emotional points. Many people turn to food for comfort — be it consciously or unconsciously — when they're dealing with difficult problems or looking for something to distract their minds. 
Strategies – To help keep food out of your mood, try these suggestions: 
Try to distract yourself from eating by calling a friend, running an errand or going for a walk. When you can focus your mind on something else, the food cravings quickly go away.
Don't keep comfort foods in the house. If you turn to high-fat, high-calorie foods whenever you're upset or depressed, make an effort to get rid of them.
Identify your mood. Often the urge to eat can be attributed to a specific mood and not to physical hunger.
When you feel down, make an attempt to replace negative thoughts with positive ones. For example, write down all of the positive qualities about yourself and what you plan to achieve by losing weight.
To promote my giveaway I'll be sharing excerpts from the book throughout the week as well. Continue reading to learn how to enter the giveaway:
Congrats to Carol E. who won the book and journal. The contest is now closed.
Here's how to enter:
Leave your name, email address, and blog URL (if you have one) in the comments below for ONE entry.
If you have a blog, feel free to post about this contest on it for ONE entry.
Sign up for This Mama Cooks! Review's RSS feed for ONE entry.
Sign up for my enewsletter for ONE entry.
Spread the word about this giveaway by submitting a link to this post on Twitter for ONE entry. You must leave your username for that site in your comment so I can check.
If you have done any of these activities you MUST come back here and leave a comment telling me what you did. I will be checking!
Maximum amount of entries at This Mama Cooks! Reviews is FIVE – leaving a comment here (1), posting about it on your blog (1), signing up for my enewsletter (1), signing up for my RSS feed (1), and using Twitter (1).
You have until midnight MT on Monday, January 25, 2010 to enter.
ONE winner will be chosen at random.
You must be willing to send me your full name and mailing address so I can mail out your book.
I will also announce the winner on this blog. I will not share your mailing info with the public, just your name. If you have a blog, I will link back to it when I announce the winners.
The giveaway is valued at $40.98 and is only open to legal residents of the United States 18 years of age and older. No purchase required. Up to FIVE entries per person. ONE book and journal set will be given away. Void where prohibited by law. By submitting your name and email address, you agree to receive relevant promotional emails and contest follow up communications from This Mama Cooks! Reviews and This Mama Cooks! On a Diet in compliance with my privacy policy and giveaway rules.
____________________________
Full disclosure: I received a book from FSB Associates to do the review and giveaway.
All links to Amazon.com are affiliate links. A commission may be earned from a referred sale to their website.
The above is an excerpt from the book The Mayo Clinic Diet: Eat well. Enjoy life. Lose weight., by the weight-loss experts at Mayo Clinic and Donald Hensrud, M.D., M.P.H. The above excerpt is a digitally scanned reproduction of text from print. Although this excerpt has been proofread, occasional errors may appear due to the scanning process. Please refer to the finished book for accuracy.
Reprinted from The Mayo Clinic Diet, © 2010 Mayo Foundation for Medical Education and Research. Published by Good Books (www.GoodBooks.com). Used by permission. All rights reserved.