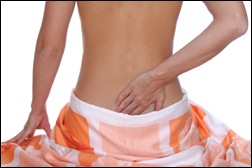 When we returned home from vacation (see my post Damn, my back hurts: a bulging disc, sciatica and more challenges in 2010) I went to Costco and bought a memory foam mattress topper to relieve my back pain. It's something you MUST get even if you don't have a bulging disc or sciatica problems. My kids now it call my "squishy bed." All I can say is that someone should get a Nobel Prize for inventing memory foam. Pure luxury!
I also purchased a couple of yoga videos for people with back pain, sciatica and bulging discs. My favorite is Yoga Therapy for Back Pain
. (You'll need to buy a yoga strap
and have bolsters and blankets nearby.) The DVD includes 13 routines to help restore proper function to the entire back. It features five 15 minute and five 30 minute individual routines for the upper back, sciatic pain, bulging disk and sacroiliac joint pain. There's also a general back maintenance routine in three time options (17, 32, and 44 minutes), a 20 minute chair yoga session, and even a short guided meditation for relaxation.
I also got Viniyoga Therapy for the Low Back, Sacrum & Hips with Gary Kraftsow
. It's not a bad video, but most of it features boring explanations of breathing technique and back problems. I would have liked to see more variety in session length and type.
I've been reading a lot of books on back pain and sciatica. One I recommend is The Sciatica Relief Handbook
. While it's over 13 years old, it has some very good information. It's also out of print, but you can pick it up on Amazon for a penny plus shipping.
I'm using an exercise ball
instead of a desk chair. Luckily, I already owned one and could try it out. It helps my lower back pain somewhat.
Doctor visits, PT and you're going to stick me with what?
Besides my GP, I've seen a back pain specialist. She prescribed a strong anti-inflammatory and physical therapy. And this is where my journey through back pain gets interesting.
My physical therapist, who my husband and I have been seeing for years, thinks it's biomechanical. She says if a left side bulge was causing the sciatica, I'd have pain down my left side down to my ankle. (I have pain on the right side down to my knee.) She also says I would not be able to bend over, and I still have enough flexibility to rest my knuckles on the floor. Instead, she thinks my hips and sacrum have rotated – and she's trying to get back in place.
I'm doing a series of wimpy little exercises to work on my pelvis, sacrum and pelvic floor. (Hello kegels!) I think it's helping to combat the sciatica though my sacrum is sore, sore, sore.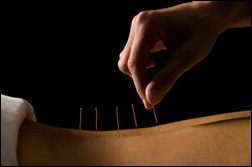 I'm also undergoing acupuncture, which is interesting. I'm too chicken to look at the needles. After my first session, I was sore and the next day I was so tired that I had to take a morning nap even though I had a good eight hours of sleep the night before. After my second session, the sciatica felt a bit better, too. I have three more appointments in the next couple of weeks, so I'll see how it goes
I'm also taking supplements like fish oil and bromelain. According to Dave Grotto's book, 101 Optimal Life Foods
, both reduce inflammation. I'm also taking DLPA, which is useful for chronic pain and inflammation. However, Dr. Weil disagrees and suggests ginger and turmeric. Dave Grotto likes turmeric, too, which he says increases NSAIDs (non-steroidal anti-inflammatory drugs) effectiveness up to tenfold!
Finally, I'm taking Nature Made SAM-e Complete, because I could use a little mood improvement. I've even been taking a homeopathic remedy for sciatica.
Status report
Is this going to be a life long condition that affects my life as a mom, wife and writer? Only time will tell. And as for those three words for 2010? I'm picking Pain Management, Exercise and Back Health (with weight loss going under exercise and healthy eating under back health). Time to get this body back on track!