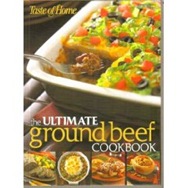 If you're looking for a healthy Super Bowl party dish that uses ground beef, you may be interested in making this dish since it feeds 16 and is only four Weight Watchers POINTS per serving.
It's based on a recipe from Taste of Home: The Ultimate Ground Beef Cookbook
, which is now out of print. It's a terrific cookbook for anyone who has a freezer full of ground meat. Try your library or used book store to find a copy.
I made this last week for dinner. The kids loved it so much they asked for seconds. If you're making it for supper, either halve it or freeze the leftovers for later.
Beefy Squash and Zucchini Stew
Serves 16
Prep time: 15 min. Cook time: 20 min.
Ingredients:
2 pounds lean ground beef, buffalo or venison
3 medium onions, chopped
2 medium green peppers, chopped
2 garlic cloves, minced
2 16 oz bags of frozen butternut squash
3 small potatoes, diced
2 cans (8 ounces each) tomato sauce
1 tablespoon Worcestershire sauce
3 14.5 oz cans of diced tomatoes (with juice)
1 16 oz bag of frozen yellow squash and zucchini
1 Tbsp of low sodium salt seasoning salt*
1/4 teaspoon salt
1/4 teaspoon pepper
1 cup (4 ounces) shredded reduced-fat Swiss cheese
1 cup (4 ounces) shredded part-skim mozzarella cheese
Directions:
In a large stew pot, cook ground beef, onions, green peppers and garlic until meat is no longer pink. Drain.
Add potatoes, tomato sauce and Worcestershire sauce. Bring to a boil.
Reduce heat and cover and cook until potatoes are tender.
Add the tomatoes, butternut squash, yellow squash and zucchini, and seasonings. Heat through.
Serve in bowls and sprinkle with the cheeses before serving.
Nutritional information
Calories 234
Calories from Fat 61
Total Fat 6.8g 10%
Saturated Fat 3.2g 16%
Cholesterol 58mg 19%
Sodium 723mg 30%
Total Carbohydrates 20.7g 7%
Dietary Fiber 4.2g 17%
Sugars 6.9g
Protein 23.8g
Vitamin A 139%
Vitamin C 81%
Calcium 16%
Iron 18%
Nutrition Grade A from CalorieCount 
Weight Watchers POINTS = 4
*I used NutraSalt's Robusto Adobo. Their Bold Chipotle would go well in this dish, too.
______________________
Disclosure: I was sent samples of NutraSalt's products to try out.