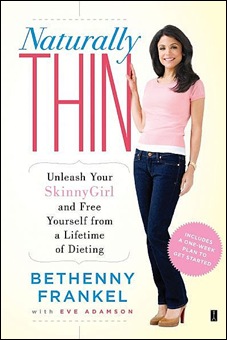 It's the time of year to where eggnog tempts us. Even the low fat version is full of fat, sugar and fillers. Is there a way to make a healthier version of eggnog? Possibly with this recipe from Bethenny Frankel.
You probably know her from The Real Housewives of New York City. She's also a natural-foods chef, the owner of the baked-goods company bethennybakes and author of Naturally Thin: Unleash Your SkinnyGirl and Free Yourself from a Lifetime of Dieting
. Bethenny also contributes to Health.com, which is where I found this intriguing holiday cocktail recipe.
Skinny Eggnog 
By Bethenny Frankel
From Health magazine
Makes 6 servings
Ingredients:
2 egg yolks
1/3 cup plus 1 tablespoon of sugar
2 cups 1% low fat milk
1 tsp vanilla
1 dash cinnamon
1 dash nutmeg
1/4 cup white rum
4 pasteurized egg whites
Directions:
Beat egg yolks until lightened in color.
Add cup 1/3 cup of sugar, beating until dissolved; set aside.
Combine milk, vanilla, and 1 dash each cinnamon and nutmeg in a saucepan over high heat; bring to a boil, stirring occasionally.
Remove from heat, and gradually whisk into egg mixture.
Return to pot, and cook to 160° F.
Remove from heat, stir in 1/4 cup white rum, and pour into a bowl; set in the refrigerator.
Beat 4 pasteurized egg whites in a separate bowl until soft peaks form; with mixer running, gradually add 1 tablespoon sugar, and beat until stiff peaks form.
Whisk egg whites into chilled mixture; sprinkle with cinnamon.
Nutritional information:
148 calories
Calories from fat 21
Total Fat 2.4g
Saturated Fat 1.1g
Sodium 75mg
Total Carbohydrates 17.8g
Sugars 17.7g
Protein  6.0g
Weight Watchers POINTS = 3
To make it even skinnier:
Remove the rum (you can use rum extract for the taste) – now each drink is 123 calories.
Remove the sugar and substitute with stevia – now 87 calories
Remove the sugar, add a substitute and forego the rum – 65 calories
______________________
All links to Amazon.com are affiliate links. A commission may be earned from a referred sale to their website.