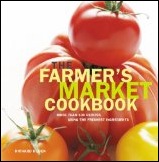 Chef Richard Ruben of the Institute of Culinary Education and author of The Farmer's Market Cookbook: More Than 100 Recipes Using the Freshest Ingredients
developed and this recipe specifically for Weight Watchers as a way to incorporate gourmet food into a healthy lifestyle. 
Weight Watchers Quinoa Salad
Makes 6 servings
Ingredients:
1 cup quinoa
2 celery stalks - minced
1 cucumber – peeled, seeds removed and minced
6 to 8 radishes - chopped
5 scallions – roots trimmed and minced
2 oranges peeled and cut into segments
2 tablespoons chopped chives
1/2 cup chopped basil leaves
1/4 cup pine nuts - toasted
2 tablespoons extra virgin olive oil
Salt and black pepper to taste
Directions:
Over a medium flame heat a one-quart saucepan, and add the quinoa.
Toast the quinoa for a few minutes and then pour over 1-1/2 cups water.
Cover with a tight fitting lid and lower the heat to a medium low. Cook the quinoa for 15 minutes.
Shut off the heat and allow the quinoa sit for 10 minutes.
In a clean bowl toss all the ingredients together to thoroughly combine.
Correct seasoning and serve.
Nutritional information
Calories 225
Calories from Fat 93
Total Fat 10.3g
Saturated Fat 1.1g
Cholesterol 0mg
Sodium 11mg
Total Carbohydrates 29.3g
Dietary Fiber 4.5g
Sugars 7.3g
Protein 6.1g
Vitamin A 10% RDA
Vitamin C 64% RDA
Calcium 6% RDA
Iron 12%
Nutrition Grade A- from Calorie Count
Weight Watchers POINTS = 5 (to lower to 3 POINTS eliminate the pine nuts)