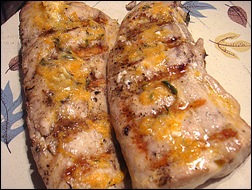 I thought we had eaten our way through the fish my husband brought back from Mexico. Then I found a nice big package of wahoo in the corner of the freezer. I decided that grilling was the best way to prepare it, but how to make a delicious fish even more special?
I didn't want to make a sauce and we didn't have any veggies to make a salsa. How about a flavored butter using the Challenge Dairy European Style Butter I was trying out?
I got out my trusty Joy of Cooking
cookbook and decided to make an orange butter with a few twists.
Chipotle Orange Butter
For fish and vegetables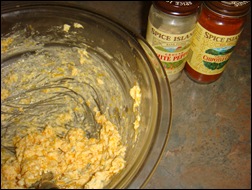 In a small bowl, cream with a fork or wooden spoon 4 tablespoons (1/2 stick) unsalted butter, softened. Gradually add in the flavorings:
finely grated zest from 2 Cuties® California Clementines (or one large orange if you don't have any Cuties around)
1 tablespoon of the juice from the Clementine or orange.
to taste or 2 large pinches of Spice Islands Ground Chipotle Chile spice (You can substitute ground red pepper or chile powder.)
the leaves off of 5 sprigs of fresh thyme (or one large pinch of dried thyme)
salt and ground white pepper to taste
Refrigerate in a small bowl or ramekin until you're ready to use it.
To prepare fish (you can use this on wahoo, tilapia, mahi mahi or any other white fish), gently smear 1 tablespoon of orange butter on the cooked fish, let it melt and serve. To hasten the process, put the fish in a warm oven and remove once butter is melted.
Nutritional Facts for a serving size of 1 Tbsp (14g):
Calories per serving: 110, Calories from Fat: 110, Total Fat 12g, Saturated Fat 8g, Trans Fat: 0g, Cholesterol: 30mg, Sodium: 0mg, Total Carbohydrate: 0g, Protein: 0g, Vitamin A: 8%.
Weight Watchers POINTS = 3 POINTS for butter
If you had a 6 ounce piece of wahoo (or another white fish like tilapia or mahi mahi) that would be 4 POINTS. You may decide to go with half a tablespoon of the Chipotle Orange butter instead. This should be enough to add flavor to your grilled fish.
Challenge Butter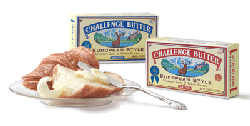 Challenge Dairy European Style Butter has 83% butterfat versus 80% for regular butters. Many people prefer cooking with European style butters because it has a creamier taste and cooks up better than regular butter. I have friends who are love to bake and swear by it.
Challenge Dairy is holding a Taste of the West sweepstakes where you can win a 7-day/6-night trip for 4 people to the Mountain Sky Guest Ranch in Montana's Paradise Valley, just north of Yellowstone National Park. (Beautiful country up there!) The ranch features fine dining, cozy accommodations, horseback riding, hiking, fishing, rock climbing, clay shooting and much more. Airfare, food, accommodations and activities are included in this $17,000 luxury getaway. They will also be giving away a $850 kitchen package from Spice Islands and OXO to one other winner.
_________________
Disclosure: Challenge Dairy sent me some sample coupons to try their products and some Spice Island spices to inspire me.
All links to Amazon.com are affiliate links. A commission may be earned from a referred sale to their website.
All other ingredients were bought/harvested by myself or my family.