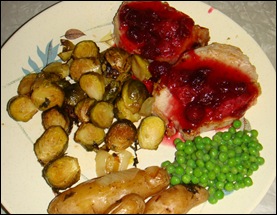 This year for Christmas I wanted to do something a bit different from the usual turkey, so I decided to make a pork roast. I bought my roast at Costco, which has an amazing selection of pork roasts. However, like everything else there, it was a bit oversized at six pounds, so I tripled the Maple Sugar–Ginger Roast Pork recipe from Food & Wine magazine.
I served it with roasted Brussels sprouts and fingerling potatoes and Green Giant Baby Sweet Peas & Butter Sauce. (It's my husband's favorite and the only processed veggies with sauce product I let in the house. Supposedly James Beard created the recipe for it.) I also made a batch of Pomegranate Cranberry Clementine Sauce, based on a recipe that I found a couple of years ago in Dave Grotto's book 101 Foods That Could Save Your Life. It's become my go to, all purpose cranberry sauce recipe.
Due to the much larger roast, cooking time more than tripled plus I got a false reading on my thermometer. Even thought it registered at 135 degrees, the roast was rare inside. Since my family was sitting down to eat, I sliced up enough for all and cooked them on a skillet until they were cooked through. Luckily that turned out just fine. The rest of the roast went in for another 20 minutes, which did the trick.
This would be a wonderful recipe anytime you're serving a large group or for a Super Bowl Party. Since it was only five of us, I'm now cooking up a lot of pork leftovers. I'll be featuring those recipes in the next few days.
Maple Sugar–Ginger Roast Pork
Recipe by Luisa Weiss at Food & Wine magazine
Ingredients:
2 1/2 pounds boneless pork loin roast, tied
2 garlic cloves, thinly sliced
2 tablespoons maple sugar or brown sugar
1 1/2 teaspoons finely grated fresh ginger
1/2 teaspoon kosher salt
1/4 teaspoon crushed red pepper
2 tablespoons extra-virgin olive oil
Directions:
The night before
Using a small, sharp knife, make thin slits all over the pork loin roast and slip a garlic slice into each one.
In a small bowl, mix the maple sugar with the ginger, salt, red pepper and olive oil.
Rub the paste all over the pork, wrap it well in plastic and refrigerate overnight in a small roasting pan.
Before cooking
Let stand at room temperature for 1 hour before roasting.
Preheat the oven to 450°.
Cooking the roast
Roast the pork at 450°for 10 minutes.
Lower the oven temperature to 400° and roast the pork for about 35 minutes longer, until an instant-read thermometer inserted in the thickest part registers 135°.
Transfer the roast to a cutting board and let rest for 15 minutes before slicing.
Discard the string and carve the pork into thin slices.
Weight Watchers POINTS = 2 for 3 ounces of pork loin

Pomegranate Cranberry Clementine Sauce
Ingredients:
2 cups 100% pomegranate juice
2/3 cup light agave nectar
1 12-ounce bag of fresh or frozen cranberries
zest of 3 Cuties California Clementines®
3 Cuties California Clementines diced into small pieces
Directions:
Bring pomegranate juice and agave nectar to a boil.
Add cranberries and simmer, stirring occasionally, until berries just pop, about 10 to 12 minutes.
Stir in zest and clementines
Keep warm (not hot) to serve with the pork roast.
Tips:
I like POM Wonderful juices, especially since Costco sells a gigantic bottle of it for an amazing price. You could also use one of their mixed juices like POM Blueberry, POM Cherry, POM Mango, POM Kiwi, and POM Nectarine.
If you are diabetic or want to reduce calories, you may want to use stevia instead of agave nectar. If you're using Truvia brand stevia, 1 cup of sugar is equal to 24 packets of their sugar substitute.
Experiment with adding spices to the sauce like ginger (fresh or dried), cinnamon or even a curry blend.
Don't have agave nectar in the house? Try honey instead.
Use leftover sauce for anything from yogurt and ice cream to pancakes or oatmeal.
I'm of the opinion that Cuties California Clementines are the best clementines you can buy. If you're not interested in buying a 3 or 5 pound bag of them, you can substitute the zest and fruit of one large orange instead.
________________
Disclosure: All links to Amazon.com are affiliate links. A commission may be
earned from a referred sale to their website