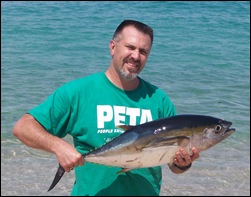 As I posted a few weeks ago, my husband came back from Mexico with a cooler full of freshly caught fish. That's a picture of him and one of the blue fin tuna. Paul's the one in the PETA (People Eating Tasty Animals) shirt. Well, what can I say? At least he wasn't wearing one of his X-rated, man's weekend fishing trip shirts.
We've been eating grilled fish one to two times a week, but cooking wise it's been kind of boring – grill the fish and serve with some veggies or brown rice on the side. Delicious and healthy, but not something to write home or blog about.
Last weekend we had friends over for dinner, so I decided to get my culinary butt in gear and cook up three different types of fish dishes, all of which I'll be featuring this week at This Mama Cooks!
Substituting tuna for salmon
The biggest challenge was trying to find tuna dishes. I combed the stack of cooking and health magazines that had piled up on my kitchen table during the past few weeks. All the salmon you'd want to cook, but no tuna recipes. So I decided to substitute tuna for salmon, figuring that both cook up the same and would be compatible with similar seasonings.
Also, my kids love couscous. I love it's convenience, even more now that Near East has come out with whole grain couscous in a variety of flavors. When I made this dish, I doubled the amount of everything since we had twice the amount of tuna and I wanted to give everyone (2 kids and 4 adults) enough for seconds of the couscous.
Salmon With Lemon-Cilantro Vinaigrette and Couscous
Recipe by Sara Quessenberry from the October 2009 issue of Real Simple magazine
Serves 4
Hands-On Time: 15m Total Time: 15m
Ingredients:
1 10-ounce box couscous (1 1/2 cups)
3 tablespoons olive oil
1 1 skinless salmon fillet (1 1/4 pounds), cut into 4 portions
1/2 teaspoon paprika
kosher salt and black pepper
1/2 cup fresh cilantro, chopped
4 scallions, thinly sliced
2 tablespoons fresh lemon juice
Directions:
Cook the couscous according to the package directions.
Meanwhile, heat 1 tablespoon of the oil in a large nonstick skillet over medium-high heat. Season the salmon with the paprika, 1⁄2 teaspoon salt, and 1⁄4 teaspoon pepper and cook until opaque throughout, 3 to 4 minutes per side.
Meanwhile, in a small bowl, combine the cilantro, scallions, lemon juice, the remaining 2 tablespoons of oil, and 1⁄4 teaspoon each salt and pepper. Drizzle over the salmon and couscous.
Nutritional Information per serving:
Calories 556
Fat  19g
Sat Fat  3g
Cholesterol  90mg
Sodium  441mg
Protein  42g
Carbohydrate  55g
Fiber  3g
Nutritional information for:
3 ounces of salmon - salmon is fattier than blue fin tuna, but calorically they are about the same.
Weight Watchers POINTS = 12
Cut down POINTS by reducing portion side and adding some steamed veggies or a side salad.