In my Cooking with Kashi: Multigrain Pilaf and Pine Nut Stuffed Vegetables post, you may have noticed the gorgeous asparagus and the sweet potatoes on the plate. I thought both dishes, neither which use Kashi ingredients, would make wonderful Thanksgiving side dishes. Good timing, too, as I noticed that asparagus spears were on sale at Safeway this week!
Both recipes were created by Katherine Emmenegger, the Executive Chef at the Great News! Discount Cookware and Cooking School in San Diego. If you ever have a chance, stop by the store to shop. The staff was very knowledgeable and the kitchen set up, which included overhead cameras, made me feel like I was cooking on TV.
Oven Roasted Asparagus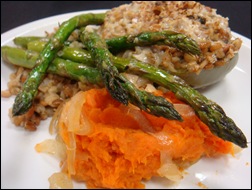 Serves 6
Ingredients:
2 bunches fresh asparagus, washed and ends trimmed
2 tablespoons extra-virgin olive oil
4 large garlic cloves, minced
1 teaspoon kosher salt
1/2 teaspoon ground black pepper
1 tablespoon fine olive oil for drizzling
sea salt for finishing
Directions:
Preheat the oven to 400 degrees F.
In a large bowl, combine all ingredients; toss to coat. Arrange in a single layer on a silpat lined sheet tray.
Place in the oven on the middle to upper rack and roast for 20-25 minutes, shaking the pan occasionally to shift the asparagus.
Arrange on a serving platter.
Serve topped with a drizzle of fine olive oil and sea salt.
Nutritional Information
Serving size is 1/6 of the recipe. This recipe is full of fiber and protein! But it also has lots of fat grams from the olive oil. If you're watching your Weight Watchers POINTS or fat intake, omit the caramelized onions and stick to the smashed sweet potatoes instead.
Calories – 80
Fat – 7g
Sodium – 390mg
Fiber – 15g
Total Carbs – 1.5g
Sugars – 1g
Protein – 1g
Weight Watchers POINTS = 2
Caramelized Onions and Garlic
Ingredients:
3 tablespoons extra-virgin olive oil
4 large yellow onions, peeled and julienne
5 garlic cloves, sliced
1 teaspoon salt
Directions:
Preheat the oven to 350 degrees F.
In a large sauté pan over medium heat, heat the oil; sauté the onions and garlic stirring occasionally.
After about 10 minutes, sprinkle the salt over the onions.
Let cook for about 30 minutes to an hour more, stirring every few minutes.
After the first 20 to 30 minutes you may want to lower the heat. The onions should be amber in color and very soft.
Potatoes
Ingredients:
3 pounds sweet potatoes, washed and poked with a fork
3 tablespoons agave syrup
zest of 1 orange
juice of 1 orange
2 tablespoons unsalted butter, melted
1 teaspoon pumpkin pie spice
Directions:
On a parchment lined sheet tray, oven-roast the potatoes until tender.
Transfer from the oven, cool slightly, peel, and smash the potatoes.
Add the agave syrup, orange zest, juice, butter, and pumpkin pie spice. Mix well.
Spread in a shallow baking dish. (Made up to this point, the recipe can be refrigerated for up to 3 days.)
Top with the caramelized onions and garlic. Bake for 20 minutes before serving.
Nutritional Information
Serving size is 1/6 of the recipe. If you're watching your weight, I'd half the portion.
Calories – 370
Fat – 11g
Sodium – 860mg
Fiber – 9g
Total Carbs – 63g
Sugars – 25g
Protein – 5g
Weight Watchers POINTS = 7