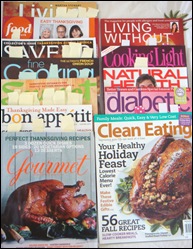 Compared to last year's polymeal Thanksgiving, planning this year's meal has been a challenge. I want to make something delicious, yet healthy. Plus it has to be gluten free for my mother-in-law and nut free for my daughter.
Like I do every year, I bought copies of my favorite cooking magazines
like Gourmet in its last issue (how sad), Bon Appetit
, and Martha Stewart Living
. Then there were the healthy magazines I have subscriptions to like Sunset
, Cooking Light
and Clean Eating
. I even picked up Diabetic Life and Living Without Magazine
(for people with food allergies and sensitivities) for ideas.
The healthy cooking magazines were B-O-R-I-N-G. Not because they were low fat or low calorie, but because they lacked imagination. I get the sage butter turkey thing, really I do. Instead, my favorite magazine was Bon Appetite. This year's Thanksgiving issue had many heart healthy recipes that were full of antioxidants like this one for Cranberry Sauce with Red Wine, Pomegranate Molasses and Mediterranean Herbs.
So what to do?
A change in plans – sweet potato sides
About a week ago I found out that we're bringing our Mary's Free-Range Organic Turkey to a friend's to smoke (we're using Alton Brown's Honey Brined Smoked Turkey recipe again this year), a sweet potato side and some gluten free dishes for my mother-in-law.
So instead of making the whole meal, I now have to ruminate over what sweet potato side dish to make. The first contender comes from Tosca Reno's Eat Clean Cookbook: Delicious Recipes That Will Burn Fat and Re-Shape Your Body!
* Tosca's fabulous new cookbook shows you that eating clean can be as delicious and stimulating to the palate as it is satisfying and beneficial. Her recipes are simple and quick to make, too. The cookbook is filled with gorgeous color photographs and would make a great holiday cookbook to inspire someone to eat more healthfully.
Lemon and Cinnamon Sweet Potatoes
3 good-sized sweet potatoes, scrubbed and trimmed of fibers
1 1/2 cups apple juice
1/3 cup agave nectar
1 tsp nutmeg
1 tsp cinnamon
1 tsp freshly grated lemon zest
1/2 tsp sea salt
3 tbsp extra virgin olive oil
Juice of half lemon
Directions:
Preheat oven 375 degrees.
Prepare a large baking dish by spraying with Eat-Clean Cooking spray
Place sweet potatoes in saucepan and cover with water. Bring to a boil. Reduce head and let simmer just until tender.
Drain sweet potatoes and set aside. Let cool. Peel if desired. Cut into rounds 1/4 inch thick and lay them in prepared baking dish.
In a heavy saucepan place apple juice, agave nectar, nutmeg, cinnamon zest and salt. Simmer over low heat for several minutes. Add olive oil and lemon juice. Stir well. The liquid should now be syrup.
Pour syrup over potatoes.
Place the baking dish in the oven and bake sweet potatoes for 20 minutes or until hot. Serve hot.
______________________
Disclosure: all links to Amazon.com are affiliate links from which I may receive a commission if you buy something after clicking over to their site.
*I received a review copy of Tosca Reno's Eat Clean Cookbook: Delicious Recipes That Will Burn Fat and Re-Shape Your Body! from Tosca's publicist.