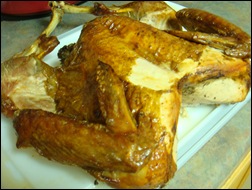 This year I did a trial run Thanksgiving turkey since I wanted to try a couple of new cooking techniques. Plus, I knew that we wouldn't have any turkey leftovers since we are going to a friend's home for the holiday this year.
First, I brined it in Kikkoman soy sauce. Then inspired by a recent Denver Post article and my friend, Vanessa at Chefdruck Musings, I spatchcocked the turkey.
I know, I know. It does sound like something Cartman would say on South Park. "Kyle, I saw you spatchcocking Kenny! That's so sick, man."
In fact, according to Tucker Shaw at the Denver Post, the word "spatchcock" is a combination of "dispatch" which means to prepare game or poultry for cooking and "cock" meaning bird. You could say "butterfly" but "spatchcock" sounds so much more culinary – and naughty - don't you think?
Spatchcocking is quite easy to do. All you need is a serious set of poultry shears. I have a set of Henckels Serrated Poultry Shears
that my husband bought me a few years ago. (These things scare the crap out of me since you could easy cut off a finger if you weren't careful.) Even though I don't have a lot of hand strength, it was extremely easy to cut through the bird. However, if you're squeamish, you could get a butcher to do it for you.
How to spatchcock poultry
First, place the bird breast side down on a large cutting board.
Using a pair of poultry shears, cut through the turkey along one side of the backbone, beginning at the tail end through to the neck.
Repeat on the other side of the backbone.
Trim away excess fat and skin including the "pope's nose" (the tail fat). Use the fat, skin, backbone, neck, giblets, heart, neck, etc. to make stock. (I did this to make stock for the gravy. Delicious!)
You can cut out the sternum or just cut through it. (If you cut through it, you'll have no wish bone.) Or you can flip the bird over, breast side up. Then place your hands just to the left of the center of the bird and press down hard to crack the bones.
Repeat on the other side of the breastbone until the bird is flat. (If you're short like me, you may want to stand on a chair so you can put all your weight on the bird.)
Place the turkey on a large baking sheet that has been coated with cooking oil. Pull the legs out to the side and tuck the wings under.
Cook!
The benefit to preparing turkey this way was that it cooks up quickly. My 10 pound turkey was done in an hour. (A bigger one probably wouldn't fit on to a baking sheet, which is why the Denver Posts recommends doing two small turkeys (12 to 15 pounds) if you need more meat for your guests.
I followed the cooking directions in the Spatchcocked Turkey Roasted With Herbs, and lowered the heat by 25 degrees since I was using a convection oven. Otherwise, I didn't follow the recipe except for coating with oil. I also placed some Challenge Dairy Unsalted European Style Butter under the breast skin. Since I had brined the turkey in Kikkoman soy sauce, I wanted to experience the taste of a umami-infused turkey without tasting other herbs and spices.
Roasting turkey made easy
So how did it turn out? Very moist with a subtle umami flavor, which will be nice when I use the leftover turkey in soup or other dishes. Also, I added some melted butter and wheat flour to the stock and drippings and made a delicious gravy, too. All in all, a hassle free cooking experience. Since spatchcocking a turkey is so easy, maybe I won't wait until next Thanksgiving to cook another one.