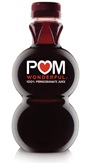 Have you seen the gigantic bottles of POM Pomegranate juice at Costco? It's sold at a great price and worth buying to make your Pomegranate Cranberry Sauce with or brine your turkey in. (Believe me, I'm sooo tempted to try yet another brining method after seeing this recipe for POM-Brined Turkey.)
So what else can you make with pomegranate juice?
Desserts
Green Tea Poached Pears with Pomegranate Glaze and Pistachios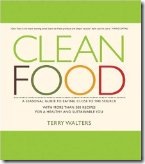 This recipe comes from Terry Walters' cookbook, Clean Food: A Seasonal Guide to Eating Close to the Source with More Than 200 Recipes for a Healthy and Sustainable You.
Ingredients:
6 pears, peeled, halved and cored
3 green tea bags
6 cups water
1/2 cup maple syrup
1/2 cup roasted pistachios, finely chopped
Mint for garnish
Glaze:
1 1/2 cup pomegranate juice
1 cup water
1/2 cup maple syrup
1 1/2 tablespoons arrowroot dissolved in 3 tablespoons water
Directions:
In a large pot, bring the water to a boil. Add tea bags and maple syrup, turn off heat, cover, and steep for 5 minutes. (Longer steeping will make the tea bitter.)
Remove teabags from the pot, add pears, and bring to a simmer. Poach pears until tender but still held together (6 to 10 minutes, depending on ripeness).
Make glaze in a medium pot by stirring juice, water and syrup together over medium-high heat until liquid is reduced by half.
Remove from heat and immediately stir in dissolved arrowroot. Refrigerate until ready to use.
To serve, place pear halves decoratively on each plate, drizzle with pomegranate glaze and top with chopped pistachios. Garnish with mint leaves and serve.
Here's a variation on the same recipe: Green Tea Poached Pears with Fruit Juice Glaze & Pine Nuts. She uses toasted pine nuts (good idea if you have a nut allergy) and light agave nectar. Dark agave nectar would be even better in my opinion.
Other ideas:
Cocktails
Pomegranate and Soda (non-alcoholic)
Serves 1
This one comes from Jaden Hair of Steamy Kitchen's new book, The Steamy Kitchen Cookbook: 101 Asian Recipes Simple Enough for Tonight's Dinner
.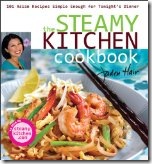 Ingredients:
Spoonful of pomegranate seeds
Ice
2 oz pomegranate juice
4 oz club soda
1 sprig of fresh mint for garnish
Directions:
Spoon the pomegranate seeds in a tall glass and fill with ice.
Pour in the pomegranate juice and club soda and stir briefly.
Garnish with the mint sprig.
If you want to serve this by the bottleful, you may be interested in reading my review of R.W. Knudsen's Sparkling Pomegranate Juice and buying it that way instead.
Variation:
Try using ginger ale instead of club soda. The ginger in Natural Brew Outrageous Ginger Ale combined with pomegranate juice would be fantastic.
Instead of plain pomegranate juice, try one of POM's juice combinations. I recently tried their POM Kiwi and POM Nectarine varieties, both of which were delicious.
Other drinks:
_______________
Disclosure: POM occasionally sends me their pomegranate juices to try out. I was not required to blog about or review it. I received a copy of Jaden's book as an attendee of a party she hosted after the BlogHer Food conference. I received a copy of Terry Walters' book from her publicist to review.