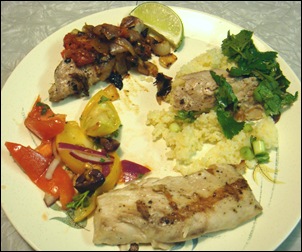 This grilled tuna dish hands down was the big favorite because of the smoky tomato salsa. If you prefer a milder relish, remove seeds from the jalapeño before grilling. I didn't and it was spicy, but no overwhelmingly so.
Unfortunately, I overcooked and blackened the tomatoes too much (it's the fish in the upper left) even though I followed the directions perfectly. My grill must have been too hot.
(The Tuna with the Lemon-Cilantro Vinaigrette in is the upper right. The Greek Mahi Mahi with Kalamata Olives is on the bottom.)
Grilled Salmon with Smoky Tomato Salsa
From the September 2009 issue of Cooking Light
Yield: 4 servings (serving size: 1 fillet and about 1/2 cup salsa)
I substituted tuna steaks for the salmon, but you could use any type of mild fish or even chicken breasts.


Ingredients:
4 (6-ounce) skinless salmon fillets
4 large plum tomatoes, halved
1 small red onion, cut into 1/2-inch slices
1 jalapeño pepper, halved
1 lime, divided
Directions:
Prepare grill to medium-high heat. Sprinkle fillets with 1/4 teaspoon salt and 1/4 teaspoon black pepper. Place on grill rack coated with cooking spray, and grill for 4 minutes on each side or until desired degree of doneness.
Place tomatoes, onion, and jalapeño on grill rack coated with cooking spray; grill tomatoes, cut side down, 6 minutes. Turn; grill for 1 minute. Grill onion and jalapeño for 6 minutes on each side or until lightly browned.
Remove from grill, and cool slightly. Coarsely chop tomatoes and onion; finely chop jalapeño. Combine tomatoes, onion, jalapeño, 1/4 teaspoon salt, 1/4 teaspoon black pepper, and juice from 1/2 lime. Serve salsa over fish. Garnish with lime wedges.
Nutritional information
CALORIES 336 ; FAT 18.6g (sat 3.7g,mono 6.6g,poly 6.8g); CHOLESTEROL 100mg; CALCIUM 32mg; CARBOHYDRATE 6.2g; SODIUM 399mg; PROTEIN 34.7g; FIBER 1.7g; IRON 0.9mg
Weight Watchers POINTS per serving = 8 - To reduce POINTS, choose a less fatty fish like mahi mahi or tilapia or use a grilled chicken breast instead.
Get Grillin' with Family Fresh Cooking and Cookin' Canuck, sponsored by Ile de France Cheese, Rösle, Emile Henry, ManPans and Rouxbe.