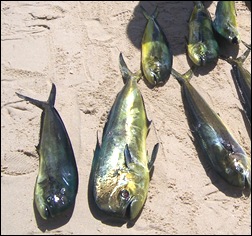 What interested me in this dish was the use of kalamata olives. I found them at the Mediterranean style salad bar by my grocery store's deli. It was the first time I used the self-serve bar and found it full of different types of olives, roasted garlic and other gourmet goodies. The nice thing about olive bars is that you only have to buy enough for your recipe and not a whole (expensive) jar's worth.
Olives are full of monounsaturated fats that have been found to reduce the risk of atherosclerosis and increase HDL (good) cholesterol. They're also a good source of vitamin E, a fat-soluble antioxidant that neutralizes damaging free radicals, and polyphenols and flavonoids, which have anti-inflammatory properties. (See SixWise.com for more about olives' health benefits and recipes for olive soup and olive tapenade.)
Along with the mahi mahi (called dorado in Mexico) and the last of our summer tomatoes, this dish packed a nutritional punch. Double the salad portion of the recipe to enjoy the next day for lunch.
Greek Mahi Mahi


Yield: 4 servings (serving size: 1 fillet and 3/4 cup salad)
Ingredients:
4 (6-ounce) mahi mahi or other firm white fish fillets (about 1 inch thick), skinned
1 teaspoon black pepper, divided
1/2 teaspoon salt, divided
cooking spray
2 cups tomato wedges
1/4 cup thinly vertically sliced red onion
3 tablespoons halved pitted kalamata olives
2 tablespoons chopped fresh parsley
1 tablespoon red wine vinegar
2 teaspoons extra-virgin olive oil
1 teaspoon chopped fresh oregano
Directions:
Heat a nonstick skillet over medium-high heat. Sprinkle fish with 1/2 teaspoon pepper and 1/4 teaspoon salt. Place fish in lightly sprayed pan; cook 4 minutes on each side or until fish flakes when tested with a fork or until desired degree of doneness. Remove fish from pan; let stand 3 minutes.
While fish cooks, combine remaining 1/2 teaspoon pepper, remaining 1/4 teaspoon salt, tomato, and remaining ingredients, tossing well. Serve salad with fish.
Nutritional information per serving:
CALORIES 213 ; FAT 6.6g (sat 1g,mono 4.1g,poly 0.9g); CHOLESTEROL 120mg; CALCIUM 46mg; CARBOHYDRATE 5.9g; SODIUM 692mg; PROTEIN 31.5g; FIBER 1.6g; IRON 2.4mg
Weight Watchers POINTS = 5