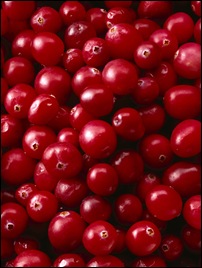 I like spooning leftover cranberry sauce from Thanksgiving on my plain, no fat yogurt in the morning. It's good on plain oatmeal or Greek yogurt at breakfast time, too. Another way to get rid of it is to mix it with horseradish as a cocktail sauce for shrimp.
Cybele Pascal, the author of the bestselling The Whole Foods Allergy Cookbook, suggests making this dairy-free, gluten-free, and vegan recipe as a way to use up some of that excess cranberry sauce.
Cybele is a regular contributor to Living Without Magazine. If you have food allergies or eat gluten free, it's a terrific magazine to check out. Her latest book Allergen-Free Baker's Handbook
is due out in January 2010.
Cranberry Apple Crisp
Yield: 6 servings
Ingredients:
6 firm tart apples (such as Granny Smith)
1 tsp. cinnamon
1 cup brown sugar
2 Tbsp. cornstarch
1 ½ cups whole berry cranberry sauce
1 cup all-purpose or white whole wheat flour, (or 1 ¼ cups all-purpose gluten-free flour mix combined with ¼ tsp. xanthan gum)
1/8th tsp. salt
1 cup old-fashioned oats (or old-fashioned gluten-free oats, or quinoa flakes)
1/2-¾ cup non-hydrogenated margarine such as Earth Balance Natural Buttery Spread, (use ½ cup of margarine for a slightly drier crumb, ¾ cup for a more "buttery" crumb)
Directions:
Preheat oven to 350°F. Grease a 7 x 11-inch, or an 8- or 9-inch square baking dish.
Peel, core and slice apples into ¼-inch-thick slices. Toss with ½ tsp. of the cinnamon, ¼ cup of the brown sugar and the cornstarch. Transfer to baking dish.
Spread cranberry sauce evenly over top of apples.
Measure flour by spooning into a dry measuring cup, level with a straightedge or back of a knife, then pour into a mixing bowl.
Add salt, oats, the remaining ¾ cup of the brown sugar and the remaining ½ tsp. of cinnamon. Mix to combine.
Melt margarine (30-60 seconds in the microwave usually does it). Drizzle into the flour mixture a little at a time, tossing until you have a large crumb. Spread crumb evenly over top of fruit. Use your fingers to clump it together as necessary.
Bake 40 minutes until top is golden brown and filling is bubbling up around edges. Let rest about 30 minutes before serving.
Recipe courtesy of Holidash.com