Brining a Thanksgiving turkey is a lot less intimidating than most people think. Usually I use Alton Brown's Honey Brined Smoked Turkey recipe, since we like to smoke our turkey – the best way to cook it as far as I'm concerned.
Yet when the folks at Kikkoman proposed that I try their way of brining a turkey, I was intrigued. Not only would it give me a chance to experience a umami-infused turkey, but it would give me a chance to do two other things: spatchcocking (also known a butterflying) a turkey and using my new convection Frigidaire oven to cook it.
Turkey brining made easy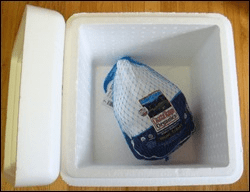 The best way to brine a turkey is to use a cooler. I had a cheap Styrofoam shipping container on hand, so the first thing I did was to make sure my 10 pound turkey would fit in it easily.
Afterwards, I rinsed then bleached the inside, and rinsed it again with a great deal very hot water.
(You can use a picnic cooler. Just make sure to clean it thoroughly before and after you brine your turkey.)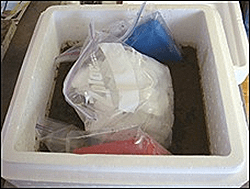 I had a feeling that the amount of brine that Kikkoman suggest wouldn't be enough to cover the turkey, so I multiplied the amounts by one and a half, which ended up being just right.
I followed the directions, then placed the turkey inside the cooler. Then I placed two big cooler packs in Ziploc bags inside plus a Ziploc bag of loose ice on top of the turkey. The bag on top served to weight down the turkey – which floated – as well as kept it cool.
Then I put on the lid and had my husband carry the turkey out to our cold garage to keep marinate for eight hours.
Want to know how the turkey turned out? See my post Spatchcocking your Thanksgiving turkey.
Ingredients
1 (16-24 pound)

fresh turkey, defrosted

2 gallons

cold water

10 ounces

Kikkoman Soy Sauce

1/2 cup

kosher salt

1/2 cup

sugar

2 tablespoons

dried sage

2 tablespoons

dried celery seed

1 tablespoon

dried thyme
Directions
The night before roasting, remove giblets and turkey neck; rinse turkey inside and out.
In a large stockpot or 5-gallon bucket, mix water with remaining ingredients.
Stir well until all the salt is dissolved.
Place turkey in the pot, cover with a lid and refrigerate overnight, or at least 8 hours.
Remove turkey from the brine, rinse well.
Pat turkey dry and cook as desired.
Prep Time:
8 Hours 20 Minutes
Total Time:
8 Hours 20 Minutes
Servings
:
Enough to brine a 10 pound turkey.
___________________
Disclosure: Kikkoman sent me a gift card to cover my food expenses, product samples and some promotional items.