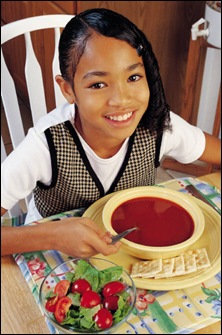 "Beautiful soup, so rich and green
Waiting in a hot tureen!
Who for such dainties would not stoop?
Soup of the evening, beautiful soup!
Beautiful soup! Who cares for fish
Game, or any other dish?
Who would not give all else for two
Pennyworth of beautiful soup?"
Lewis Carroll, Alice in Wonderland
Our first serious snowfall makes me want to rush to the kitchen in search of a hot bowl of soup. While I have a great many varieties of canned soup in the cupboard – everything from Progresso to Campbell's to Amy's – there are some days when nothing but homemade soup will do.
This is especially true since we still have a refrigerator full of tomatoes, the last remnants of our summer garden. If you aren't as lucky, canned tomatoes from Muir Glen Organic, will do.
Best thing about this soup? Only 2 Weight Watchers POINTS per serving!
Tomato and Roasted Sweet Pepper Soup
Makes 5 servings (1 1/3 cups each)
Ingredients:
2 large yellow or red bell peppers
1 tablespoon olive oil
1 medium onion, chopped (1/2 cup)
2 cloves garlic, finely chopped
1 can (28 oz) Muir Glen® organic crushed tomatoes with basil
2 cans (14 oz each) reduced-sodium chicken broth or vegetable broth
1 teaspoon sugar
1/4 teaspoon crushed red pepper or black pepper
1/4 teaspoon coarse salt (kosher or sea salt)
Directions:
Line 15x10x1-inch pan with foil. Set oven control to broil. Cut peppers into quarters, removing membranes and seeds. Place skin sides up in pan; press down to flatten.
Broil peppers 4 to 6 inches from heat about 10 minutes or until blackened. Wrap foil around peppers; let stand 20 minutes. Remove skin from peppers; discard. Cut peppers into 1/2-inch pieces. Set aside.
Meanwhile, in 4-quart saucepan, heat oil over medium-high heat. Cook onion and garlic in oil 2 to 3 minutes, stirring constantly, until crisp-tender.
Stir in tomatoes, broth, sugar, crushed red pepper and salt. Heat to boiling. Reduce heat; simmer 15 minutes. Stir in roasted peppers; heat until hot.
Nutritional Information: 1 Serving: Calories 100 (Calories from Fat 30); Total Fat 3g (Saturated Fat 0g, Trans Fat 0g); Cholesterol 0mg; Sodium 690mg; Total Carbohydrate 14g (Dietary Fiber 2g, Sugars 9g); Protein 4g
Weight Watchers POINTS: 2
Substitution:
If you're short on time, use 1 1/2 cups jarred roasted sweet peppers rather than roasting your own.
Use vegetable broth instead of chicken broth to reduce fat and calories.
For added protein, add chopped up chicken or ham or cubes of firm tofu.
Add some brown rice or whole wheat noodles for more fiber.
Add a teaspoonful of flaxseed oil to your bowl to get some Omega-3s into your diet.