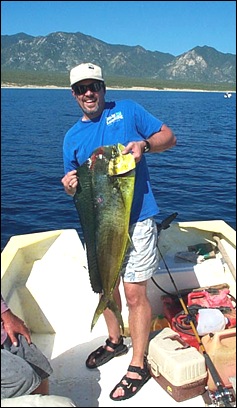 You give a man a fishing pole – and a ticket to La Paz, Mexico – and he and three friends bring back over 200 pounds of tuna, wahoo and mahi mahi. Thanks to my husband's recent fishing expedition, I'll be cooking up a fish dish every week and featuring the recipes here at This Mama Cooks! It's a bit daunting, but I think I'm up to the challenge.
Luckily for us, wild caught fish is low in fat and calories and full of heart-healthy omega-3 fatty acids. Also, the American Heart Association recommends eating fish two times per week.
However, my children are not the most enthusiastic fish eaters. The trick will be to disguise the fish enough to get them to eat it. One way will be to use fruit salsas on top of grilled fish. Here's a recipe from Muir Glen Organic that should do the trick.
Fiery Fruit Salsa
Makes 6 servings (1/3 cup each)
Ingredients:
1 can (14.5 oz) Muir Glen® organic fire roasted diced tomatoes, drained
1/2 ripe medium mango, peeled, diced (3/4 cup)
1/4 cup sliced green onions (4 medium)
2 tablespoons chopped fresh cilantro
1 tablespoon fresh lime juice
1 teaspoon finely chopped chipotle chile in adobo sauce
1/4 teaspoon coarse (kosher or sea) salt
Directions:
In food processor, place drained tomatoes. Cover; process until coarsely chopped. Place in medium bowl.
Stir in remaining ingredients.
Serve with meat or fish, or with tortilla chips as desired.
Nutritional Information:
1 Serving: Calories 30 (Calories from Fat 0); Total Fat 0g (Saturated Fat 0g, Trans Fat 0g); Cholesterol 0mg; Sodium 180mg; Total Carbohydrate 6g (Dietary Fiber 1g, Sugars 4g); Protein 0g
Weight Watchers POINTS = 0
Tips:
Make the salsa up to 24 hours ahead of time, and store tightly covered in the refrigerator.
Salsa can be used on chicken, pork or turkey or served on the side with tortilla chips.