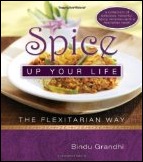 I was meeting with my writer's group last week at Mt. Everest Cafe in Ft. Collins, Colorado. It's an inexpensive buffet style Nepalese/Indian place that I had driven by hundreds of times but never went in. I'm so glad my friends invited me to join them because the food was delicious.
As I sat there enjoying my second servings of eggplant curry and carrot halwa, I realized that none of this could be good for me. Then I remembered a review copy of Spice Up Your Life: The Flexitarian Way
I received last summer from author, Bindu Grandhi.
Bindu touts the health benefits of eating a flexitarian diet comprised primarily of vegetables, legumes, whole grains, spices, fruits and nuts with an occasional serving of chicken and fish. She believes that eating a tasty and satisfying nutritional meal is exactly what our mind craves and body needs.
These are the sorts of recipes she features in Spice Up Your Life. Now I can replicate what I had at Mt. Everest Cafe, but do it in a healthful way. I'm excited to try her dishes!
The Indian Cookbook dilemma
I love Indian food, but don't make it at home too often except for Americanized versions, some of which I've featured here at This Mama Cooks!:
I find Indian cookbooks too complicated for someone who wants to spend 20 to 30 minutes preparing a dish. Usually the ingredient lists are long and exotic, and there's always some sort of special cooking implement to purchase. Instead, Bindu's recipes are simple and straightforward. Her Eggplant and Yogurt Curry takes 15 minutes to prep and 20 minutes to cook. Plus, the most exotic ingredient in it is Italian eggplant.
I was excited to see that she featured a dish similar to Carrot Halwa (or Halva) in her book, on her website and in her YouTube video series:
Carrot Phirni
Grated carrots, cooked in milk till tender, are flavored with sugar and spice. This dessert is similar to halva—not as thick, but just as sweet and tasty. Bindu's favorite way to serve is warm with vanilla ice cream.
This would be a terrific, gluten free alternative to Pumpkin Pie for Thanksgiving dessert.
Prep Time:  15 minutes 
Cooking Time: 35 minutes 
Serves: 4
Ingredients:
2 Tbsp, sweet, unsalted butter, divided
2 c. finely grated carrots
1 c. half-and-half
1/3 c. sugar
1/16 tsp. ground nutmeg
Directions:
In a heavy-bottomed pan, melt 1 Tbsp. of butter. 
Add grated carrots, and sauté on medium flame for 8–10 minutes, until the raw smell is gone. 
Add half-and-half, and cook 10 minutes until milk is reduced, stirring occasionally. 
Add sugar, 1 Tbsp. butter, and nutmeg, stir occasionally until sugar is dissolved and mixture is a thick consistency, about 10 minutes.
Serve warm or chilled with a dollop of vanilla yogurt or a scoop of vanilla ice cream.
This Mama's tips
Instead of half and half, try using no fat condensed milk.
Substitute agave nectar instead of white table sugar. Use 25% less, a smidge less than a 1/4 cup.
Carrot Halwa has chopped up cashews. You could try adding some to this dish as well. If you have a nut allergy try pine nuts, which are seeds not nuts. Nuts and seeds are high in protein, fiber, antioxidants and monosaturated fat.