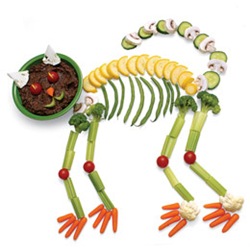 We're just a few days from that sugar filled nightmare of a holiday, Halloween. So how do you keep your kids healthy with all that candy around? Dr. Tony Woodward, chief of emergency medicine at Seattle Children's Hospital, recommends that you let your kids have a treat or two a day instead of leaving candy out for kids to sample at will. (Read more of Dr. Woodward's Halloween safety tips here.)
Dr. Woodward also recommends offering a filling meal before your kids head out to trick-or-treat so they won't scarf down too much candy. Here are six fun and healthy recipes for Halloween parties from Disney FamilyFun magazine and their Spooky Snacks & Treats section.
My original healthy tips and alternative versions are italicized.
No bones about it, this kitty skeleton makes a healthy centerpiece for Halloween parties. Just arrange assorted fresh vegetables and a bowl of your favorite black bean dip in the shape of a spooky cat.
If you want a tan cat use hummus. For a white cat try a no fat Greek yogurt based dip or no fat ranch dressing. This would also be cute dish for a kitty themed birthday party!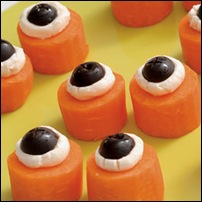 Edible Eyeballs
Set out a platter of these creepy peepers, and your party guests are bound to do a double take.
Simply slice carrots into 1-inch-thick chunks, top each with a blob of cream cheese and one half of a pitted black olive, and they're ready to serve.
To make even healthier, use a low or no fat cream cheese. Green olives with red pimentos could be fun, too!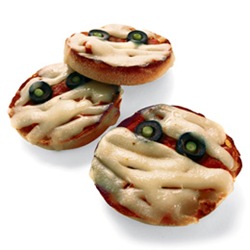 These yummy mummy pizzas make a quick and fun Halloween lunch or dinner. To create one, first spread a tablespoon of pizza sauce onto half of an English muffin (toast it first, if you like). Set olive slices in place for eyes and add round slices of green onion or bits of red or green pepper for pupils. Lay strips of cheese (like a pulled-apart mozzarella cheese stick) across the muffin for the mummy's wrappings. Bake at 350° until the cheese is melted and the muffin is toasty, about 10 minutes.
(Health it up with whole wheat muffins, low or no fat mozzarella sticks, and sneak in some diced up veggies under those cheese wrappings!)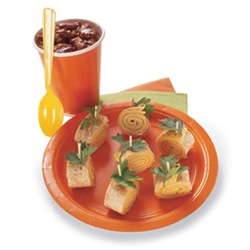 Here's a wholesome snack to serve before the kids head out to trick-or-treat. Lay American cheese slices or spread cream cheese on sun-dried-tomato tortillas, then roll them up and cut them into 1-inch sections. Use a toothpick to secure each roll-up, topped with a sprig of cilantro or parsley.
Alternative version: Create a spread with low fat or no fat cream cheese or thick no fat Greek yogurt and some pureed pumpkin. Sweeten it to taste with agave nectar. Spread the cream cheese or yogurt mixture on to whole wheat tortillas or wraps, then roll them up and cut them into 1-inch sections.
For fun sprinkle some diced up nuts and/or dried fruit before rolling up.
(Photos from Disney FamilyFun used with permission.)