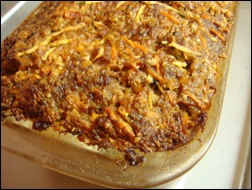 Blame the excellent compost we've been making with our NatureMIll indoor electric composter, but we've had a bumper crop of zucchini this year. So what to do with it all?
Sure there's zucchini bread, which everyone and their grandma makes. Yes, it's delicious and you can probably make healthy version of it. However, after winning two chocolate cakes in my children's school's fall festival cakewalk, we don't need any more sweets in the house. (The culinary and health damage we do to ourselves in the name of school fundraising. Geez.)
Doing a weekly meal menu plan for the FoodieView blog I came across a recipe from Zucchini-Enhanced Turkey Meatloaf from Green Diva Mom. Having a freezer full of lean ground venison, I thought I'd try to come up with my own version using a lot more zucchini and instant oatmeal. (Not only is using oatmeal instead of bread crumbs healthier because it increases the fiber, but it's gluten free, too.)
After a few tries, I think I got it right. My first two versions were delicious, but too mushy straight out of the oven. This one is a little firmer because I used paper towels to absorb the extra moisture from the shredded zucchini and carrots, cut back on the amount of tomato sauce, and increased the oven temperature.
This Mama's Zucchini-Carrot Meatloaf (gluten free)
Serves 8
Ingredients:
1 1/2 pound lean ground meat (I used ground venison)
1 egg  plus 3 egg whites
1 1/2 cup oatmeal (instant or quick cooking oatmeal will blend in more like bread crumbs; steel cut or old fashioned oatmeal will give the meatloaf more texture)
2 cups shredded zucchini
1 1/2 cup shredded carrot
1/4 cup tomato sauce or spaghetti sauce
salt and pepper to taste
2-3 teaspoons seasonings of your choice (I used a mixture of dried onion bits, dried minced garlic and seasoning salt)
A couple of dashes of hot pepper sauce
Directions:
Shred zucchini and carrots. Place on dish towels or paper towels on a tray or in a colander. Let sit for an hour so the towels can absorb the extra moisture.
Turn on oven to 375.
Grease meatloaf pan with a cooking spray.
Place all ingredients into bowl and mix with hands.
Press into loaf pan.
Bake at 375 F 60 to 75 minutes or until a meat thermometer registers 180 in the center of the loaf.
Take out of oven and let rest for 10 minutes before slicing.
Weight Watchers POINTS (guesstimated) = 5
This recipe is very close to Weight Watchers' Spicy Meatloaf, which contains less oats, eggs and veggies and comes in at 4 POINTS.
Tips: For seasoning, use salt, pepper and herbs to taste. About 3 teaspoons total of your favorite Italian seasoning salt should be fine. If you're adventurous, try Mexican spices and herbs like cumin and cilantro and use salsa instead of tomato or spaghetti sauce.
Like Green Diva Mom's version, cold slices of the leftovers are great for sandwiches or in wraps. You can also use the mix for meatballs.