Flat Belly Diet
by Liz Vaccariello is a New York Times bestselling book and eating plan based incorporating monounsaturated fatty acids (MUFAs) into every meal to target belly fat. First she has you follow a four-day plan of prescribed foods and drinks to banish belly bloat. Then for four weeks you eat meals packed with monounsaturated fat. You can learn more about it here on Prevention's website.
I was sent a copy of the the Flat Belly Diet! Pocket Guide, a pocket version of the original book, to review. I find the diet intriguing, but not something I could fit into my life at the moment with all the travel I'm doing. Still, Liz has some interesting ideas and writes in an entertaining way. As the senior vice president and editor-in-chief of Prevention magazine, she's knowledgeable about her subject and explains everything clearly. This would be a perfect diet to jump start your New Year's resolutions to eat better and lose weight.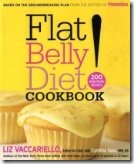 I did like the eating plan. It contained healthy, easy to cook meals, and contained nothing you couldn't find at Super WalMart or Super Target. You just have to make sure you have certain things on hand, basically the MUFA foods like nuts, seeds, healthy oils, olives, avocado, and (yay!) dark chocolate.
The best part of the diet is its companion cookbook, the Flat Belly Diet! Cookbook
. It's filled with more than 200 easy, great-tasting new recipes (many ready in 30 minutes or less) that are perfect for anyone trying to lose weight, watch portion size, or eat more healthy. Each recipe comes with nutritional information, so you can figure out Weight Watchers POINTS. And they're yummy enough that everyone in the family should enjoy them. (Liz is currently writing the Flat Belly Diet! Family Cookbook, which will be released on April 13, 2010. Can't wait!)
The Flat Belly Diet does breakfast
While I'm on the road this week and next, I'll be featuring some of Liz's recipes. Here's one I know the whole family would enjoy.
Banana Pancakes with Walnut Honey
20 minutes     4 servings (3 pancakes each)       425 calories     MUFA : Walnuts
Honey and walnuts make the perfect sweet and crunchy topping for these healthy pancakes. If you have nut allergies, substitute pumpkin seeds, roasted sunflower seeds or pine nuts. (A pine nut is a seed, not a nut.)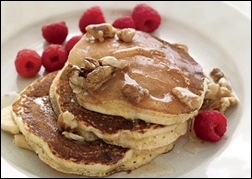 Flat Belly Diet! Easy Pancake Mix
Ingredients:
1½ cups all purpose flour
1½ cups whole wheat pastry flour
6 tablespoons yellow cornmeal
1 tablespoon baking powder
½ teaspoon sale
Directions:
1. Combine ingredients in a bowl and mix well.
Pancakes
Ingredients:
1 1/3 cups Flat Belly Diet! Easy Pancake Mix
¼ teaspoon ground cinnamon
1 cup low fat buttermilk
¼ cup water
1 egg
1 tablespoon canola oil
1 teaspoon vanilla extract
1 large banana, halved lengthwise and cut into thin slices
½ cup fresh raspberries
Walnut Honey
Ingredients:
½ cup walnuts, chopped
1/3 cup honey
1 tablespoon water
Directions:
To prepare the pancakes: Combine the pancake mix and cinnamon in a large bowl. Combine the buttermilk, water, egg, oil and vanilla extract in a separate bowl. Whisk into the pancake mix and stir until smooth. Fold in the banana. Set aside.
To prepare the walnut honey: Combine the walnuts, honey, and water in a small bowl.
Coat a large nonstick skillet with cooking spray and set over medium heat. Add the pancake batter in scant ¼ cupfuls and cook, in batches, for about 2 minutes or until the pancakes have puffed and the undersides are lightly browned. Turn the pancakes and cook for about 2 minutes longer or until lightly browned. Serve with the walnut honey and raspberries.
Nutritional information
425 calories
10 g protein
67 g carbohydrates
15 g fat
2 g saturated fat
55 mg cholesterol
387 mg sodium
5 g fiber
Weight Watchers POINTS = 3 POINTS per pancake
This Mama's tips
Double the pancake mix and keep half in tightly sealed jar or container in the cupboard so you can make pancakes anytime.
______________
Disclosure: I received a review copy of the books in order to facilitate the review.