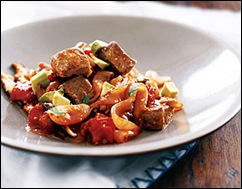 My family and I have become obsessed by Top Chef Masters. I've stayed up to watch the repeat so often that it's messed up my morning work out routine. (It's hard to wake up at 5:30 a.m. when you didn't go to bed until 11 p.m.) We've been rooting for Rick Bayless the most, but I love what Hubert Keller is doing, too.
I've been itching to try some of Rick's recipes, but worry that they may be too fattening. Luckily, he's created some healthy one-pot Mexican dishes for PREVENTION's COOK! magazine that are under 425 calories:
I plan to make a few of these for us to eat in the following weeks while we watch Top Chef Masters and Top Chef. Though if Hubert keeps doing so well, I may have to switch to French food.
Spicy Chipolte Beef
Here's a clip of Rick cooking up the dish he created for PREVENTION on The CBS Morning Show.

Watch CBS Videos Online
Spicy Chipolte Beef (Puntas al Chipotle)
WORK TIME: 40 minutes / TOTAL TIME: 1 hour / SERVINGS: 4
You can prepare this early on the day you plan to serve it. Refrigerate the sauce and meat separately, then bring them back to room temperature before reheating. Warm the sauce first and add the meat just long enough to heat through.
Ingredients:
2 Tbsp vegetable or olive oil
1 lb beef tenderloin, strip, or sirloin, cut into 1" cubes
1 lg white onion, sliced 1⁄2" thick
4 cloves garlic, minced
1⁄2 c dark beer, broth, or water
2 Tbsp Worcestershire sauce
2 cans (14.5 oz each) no-salt-added diced tomatoes, drained
12 oz shiitake, oyster, or other mushrooms, or a combination, stemmed and sliced 1⁄4" thick
2 canned chipotle chile peppers in adobo sauce, chopped
1 tsp salt
1⁄3 c chopped cilantro
Directions:
HEAT oil in Dutch oven over high heat. When hot, add beef in an uncrowded single layer. Cook, stirring frequently to brown all sides, until almost at desired doneness (about 4 minutes for medium-rare). Remove to plate, leaving oil behind.
RETURN pan to medium-high heat. Add onion. Cook, stirring occasionally, until brown, about 7 minutes. Add garlic and stir 1 minute. Add beer and Worcestershire. Add tomatoes, mushrooms, peppers, and salt and cook, stirring occasionally and scraping up bits stuck to bottom of pan, until mushrooms are done and liquid is reduced to a sauce, about 10 minutes.
SEASON with salt, if desired. Return meat to pan and heat. Serve sprinkled with cilantro.
Nutritional info per serving: 345 cal, 30 g pro, 18 g carb, 4 g fiber, 15 g fat, 3 g sat fat, 839 mg sodium
Weight Watchers POINTS: 8
Tips:
Rick likes strip steak. A more affordable cut, like sirloin, works, too.
I'm going to try it with some of the venison roast we have in the freezer, which is leaner than strip or sirloin beef steak.
You can reduce calories by using low fat broth or water instead of beer.