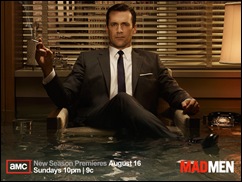 If you're a fan of Mad Men, you've eagerly waited for the summer to be over so you could watch the premier this Sunday. So why not celebrate by having a Mad Men viewing cocktail party?
If a retro cocktail party sounds like a fattening, greasy food orgy of Swedish meatballs, Devil's Food spread on crackers, and pigs in a blanket, not to worry.
You can made veggie crudités with a herb yogurt dip, of course, served in your grandma's chip and dip kitsch-ware. Or you can try out some updated, healthified deviled egg classics.
Avocado and Yogurt Deviled Eggs
Makes 6 servings
This is a healthier version of traditional deviled eggs. While yogurt replaces the mayonnaise, you could use no fat Greek yogurt or no fat mayo, too. 
Ingredients:
1 to 2 tablespoons plain yogurt
6 large eggs
Pepper to taste
Salt to taste
1/2 avocado, peeled pitted and cut into small pieces
2 teaspoons fresh lemon juice
Cilantro leaves for garnish
1 small garlic clove, minced
1/2 teaspoon minced jalapeno (optional)
Directions:
Place the eggs in a medium saucepan and cover with cold water. Bring to a boil over medium-high heat, uncovered. When the water begins to boil, remove the pan from the heat and cover for 8 minutes. Remove the eggs from the pan and place in ice water.
Peel as soon as they are cool. Cut the peeled eggs in half lengthwise. Scoop out the yolks and place in a medium bowl. Reserve the whites.
Combine with the avocado, lemon juice, garlic, jalapeno and yogurt. Mash with the back of a fork until smooth. Season with salt and pepper to taste.
Spoon the mixture in a small zip-lock bag. Snip off a small corner of the plastic bag, leaving about a 1/4-inch opening. Pipe the avocado mixture back into the egg whites. Top each with a cilantro leaf and place on a serving platter.
Nutritional Information:
Total Calories: 165, Carbohydrates: 17.69 g, Total Fat: 8.90 g, Protein: 6.91 g, Sat Fat: 2.35 g, Fiber: 3.66 g
Weight Watchers POINTS: 3
Since the Avocado and Yogurt Deviled Eggs are 3 Weight Watchers POINTS, you may want to try this Weight Watchers deviled egg recipe instead.
Curried Deviled Eggs
Yields 2 filled egg halves per serving
Ingredients:
4 large egg(s), white shelled-variety
3 tbsp plain fat-free yogurt
2 tsp curry powder, mild-variety
1/4 tsp table salt
4 sprig(s) cilantro, for garnish
Directions:
Place eggs in a medium saucepan and fill with enough water to cover eggs; bring to a boil for 2 minutes. Turn off heat and cover pan; let stand covered for 10 minutes on stove. Place pan in sink and run cold water over eggs until cool (no need to drain first); peel eggs and slice each one in half lengthwise.
Remove yolks and place yolks in a small bowl; mash with yogurt, curry powder and salt.
Spoon yolk mixture back into egg white halves and garnish each with a small piece of cilantro.
Weight Watchers POINTS = 2 per servings