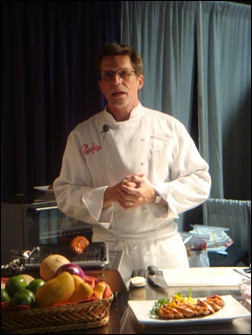 One of the foodie highlights of the recent BlogHer09 conference was seeing Rick Bayless do a cooking demonstration at the National Pork Board's booth.
I've been a fan of Rick's since I first saw his PBS cooking show, Mexico–One Plate at a Time, about nine years ago. It was when we first moved into our house, before the satellite TV was hooked up.
Only the local PBS station would come through, and I had nothing to do all day but sit on the couch with a very pukey nine month old. Thank god for Rick's and Julia Child's cooking shows – they got me through a lot of boring afternoons.
My family and I have reconnected with Rick via Bravo's show, Top Chef Masters. I like the show much better than the regular Top Chef since the chefs are much more professional, supportive and the only drama is in the kitchen and during the cooking. Rick's blogging about his experience on the show at Root4Rick.com – check it out.
Rick demonstrated a pork tenderloin with mango salsa recipe at the conference. For those doing Weight Watchers, 1 ounce of pork tenderloin is equal to 1 Weight Watchers POINT and 1 small mango is 2 points. So when figuring out portions, I'd weigh out the meat and add a point or two for the salsa, depending on how much you put on the meat. Serve with some steamed veggies, brown rice or a salad on the side.
Chamoy-Marinated Pork Tenderloin with Mango Salsa
Recipe courtesy of Rick Bayless on behalf of the National Pork Board
Ingredients:
2 pork tenderloins (about 2 pounds)
1 1/2 tablespoons olive or vegetable oil
salt and pepper
Chamoy Sauce
2-3 dried morita chiles (available in the Hispanic section of your grocery store)
1 10-ounce jar of 100% apricot fruit spread (Cascadian Farm makes a 100% organic version)
3/4 cup fresh lime juice
1/2 cup sugar (try substituting agave nectar for the sugar)
1 tablespoon salt
Salsa
2 mangos (about 1 pound) peeled and cut into 1/2 inch pieces
1 jicama (about 1 pound) peeled and cut into 1/2 inch pieces
1/4 cup cilantro, chopped without the bottom stems
1 medium red onion, peeled and cut into 1/2 inch pieces
Instructions:
Chamoy
Toast chilies on a dry medium-hot skillet, pressing them flat, until they are aromatic, 10 seconds per side.
Scoop into a bowl, cover with hot tap water, and rehydrate 30 minutes, stirring to insure even soaking.
Drain and discard water. Transfer to a blender.
Add fruit spread, lime juice, sugar (or agave nectar) and salt. Puree.
Measure 1/2 cup into a small bowl and set aside to use as a glaze for the meat.
Set the rest aside.
Sear and Roast Pork
Heat over to 400 degrees F.
Heat the oil in a 12-inch skillet over medium high heat.
Salt and pepper tenderloins.
Lay the seasoned pork in the skillet and sear on all sides – 7-8 minutes total.
Remove from the skillet, lay on a rack set on a rimmed baking sheet.
Brush the pork with the reserved chamoy.
Roast pork in oven until done to medium, 20 minutes (until internal temperature reaches 145 degrees F).
Remove from oven, cover with foil and let rest 10 minutes before slicing.
Salsa
In a bowl, combine mango, jicama and cliantro.
Scoop onion into a small strainer, rinse under cold water and shake off excess. Add to the bowl.
Scoop in 1/2 cup of remaining chamoy and mix into the salsa.
Serve
Slice pork into 1/2 inch pieces.
Lay overlapping slices onto individual plates or a platter, spoon on a little salsa and serve.
You can find other pork recipes at TheOtherWhiteMeat.com and more recipes from Rick Bayless on his website.