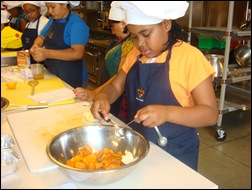 This was my favorite recipe of the Common Threads blogger event since I adore sweet potatoes and don't make them much since the rest of my family isn't so crazy about them.
According to my Common Threads handout, sweet potatoes are a nutrition star! They're an excellent source of Vitamin A (good for vision, healthy skin, bones and teeth) and beta carotene, which has cancer fighting properties. Sweet potatoes also contain Vitamin C, potassium and fiber.
Remember, sweet potatoes aren't just for holidays. Have them year 'round!
Sweet Potato Pone
Yields 4 Servings
Ingredients:
1 sweet potato (cooked)
1 teaspoon light brown sugar
1 oz (2 tablespoons) butter
2 oz (4 tablespoons) orange juice
2 oz (4 tablespoons) low sodium chicken broth
1 large egg, beaten
1/4 teaspoon salt
Directions:
Cook the potato fully in the microwave. Let cool. (Do this the night or morning before.)
Peel then chop the sweet potatoes and add brown sugar and butter.
Slowly stir in the orange juice, then add the beaten egg and chicken broth.
Heat the oven to 350 F and grease a baking dish.
Pour the mix into the greased container and bake for 30 minutes.
You will know that the dish is ready if it is firm and a knife inserted in the center comes out clean.
Suggestions:
To reduce the fat use two to three eggs white instead of the whole egg.
Instead of brown sugar, experiment and use sugar free pancake syrup, real maple syrup or agave nectar.
Use low fat chicken broth.
Weight Watchers POINTS:
This recipe is rather similar to the Weight Watchers' Sweet Potato and Squash Bake, which is 2 POINTS for a 1/2 cup serving. Since the pone has orange juice, butter, broth and an egg, I think a safe guesstimation would be 4 POINTS. You could try reducing the POINTS by using egg whites, low fat chicken broth, and a sugar substitute like sugar free pancake syrup.