Shrimp is a wonderful party food since 2 ounces is equal to 1 Weight Watchers POINT. And if you've ever weighed out shrimp, that's a lot of shrimp.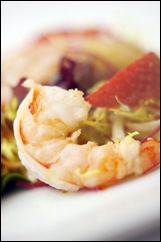 Since shrimp cocktail always reminds me of gambling in Vegas and listening to the Rat Pack, it's the perfect retro food for a Mad Men viewing party. And eating a bunch won't make you pop out of your girdle and bullet bra either.
Ingredients:
bell peppers
fresh shrimp, deveined
pimentos
lettuce
parsley
lemon wedge
cocktail dressing
Directions:
Cut 1 inch rings from bell peppers.
Devein shrimp and replace the vein with a pimento strip.
Place pepper ring on lettuce and fill with shrimp.
Garnish with parsley. Serve with a lemon wedge and cocktail dressing.
Flaked salmon and diced cucumber, or flaked tuna and diced celery can also be used to fill the pepper rings.
POINTS wise, cocktail sauce is a winner since 1/4 cup is equal to 1 POINT.
Ingredients:
6 Tbs. chili sauce
2 Tbs. lemon juice
1 1/2 Tbs. horseradish (or to taste)
1 tsp. Worcestershire sauce
1/4 tsp. grated onion
2 drops Tabasco sauce
salt to taste
Directions:
Combine ingredients and chill thoroughly.
Serve with seafood cocktails or other seafood appetizers. Makes 1/2 cup.
Here's an alternative to the traditional shrimp cocktail. It reminds me of the Mexican shrimp cocktails you get in Baja with the tomato sauce, salsa and diced avocado.
Makes 6
Ingredients:
36 jumbo shrimp, precooked, tail on
2 tablespoons tomatoes, seeded and diced
2 tablespoons cilantro, chopped
3 tablespoons green olives, chopped
1/4 teaspoon jalapeno pepper, minced
1/2 cup prepared quality salsa
The next 5 ingredients are to your taste – the measurements are just suggestions.
2 tablespoons each fresh orange, fresh lime juice, and Tequila
1/4 teaspoon Worcestershire
1/4 teaspoon Tabasco
For garnish, you can use thick slices of avocado, lime wedges, and cilantro leaves.
Directions:
Have Margarita glasses chilling. If you want more of a Mad Men feel, use oversized martini glasses.
In a large bowl, combine the tomato, cilantro, olives and jalapeno.
In a medium bowl, blend the salsa, juices, the Tequila, Worcestershire and Tabasco sauces.
Stir in the tomato mixture. Chill this mixture before assembling the cocktails.
Just before serving, cut the avocado into thick slices and splash some limes juice on them so they don't brown.
Cut the limes into wedges and gather the cilantro garnish.
Place an avocado slice in the chilled glass and spoon the cocktail sauce next, leaving part of the avocado exposed. Place a lime wedge on each
glass and line six shrimp around the rims. You may want to dip them into the sauce slightly to give them anchorage. Garnish with the
cilantro leaves.