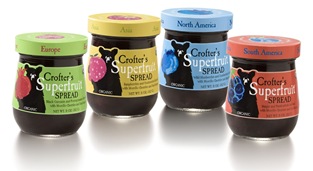 Crofter's Organic recently released a new line of Organic Superfruit Spreads made from exotic fruits that are high in anti-oxidants like pomegranate, black currants and yumberries. According to their website, Crofters Super Fruit Spread contains as much antioxidant activity as 1L of red wine. They've determined this via in-house laboratory tests using ORAC analysis.
All Superfruit Spreads are made with Fair Trade sugar, contain no artificial flavors or preservatives, and are certified organic. The spreads are available in 11oz. jars at an SRP of $4.99.
The fruit in each Crofter Superfruit Flavor is sourced from around the globe:
North American blend: cranberry and blueberry
South American blend: maqui berry and passionfruit
European blend: pomegranate and black currant
Asian blend: yumberry and raspberry
Using Crofter's Super Fruit Spreads
Jams, jellies, fruit spreads – I like them all. But what I loved about Crofter's Superfruit Spreads were their unusual and delicious flavors. So far my favorite is the European blend, since I love pomegranate. But the South American one is delicious, too. My least favorite is the North American one, since I don't care for blueberry all that much. Haven't tried the Asian blend yet.
I've been experimenting a little bit with the spreads, trying them on toast and pancakes. So far my favorite is adding 2 tablespoons (only 1 Weight Watchers POINT) to a cup of no fat plain yogurt. It tastes just as good as a premixed flavored yogurt because a little of these spreads go a long way. Making a parfait with a layer of yogurt, a thin layer of spread, then some berries and a few nuts, ground flax seed, or granola would be a yummy and healthy way to start your day, too.
You can also use Crofter's Organic Super Fruit spread a glaze for a grilled meat, like pork, chicken or shrimp. Just add a little water and maybe some hot sauce to spice it up a bit. Or add a little bit to a ham sandwich.
The Crofter's site features all kinds of decadent recipes, but one way I like using fruit spread is in a berry trifle. Here's a fairly healthy version from eatbetteramerica.com.
Fat Free Trifle
makes 8 servings
Ingredients:
1 large package (3.4 ounces) fat-free instant vanilla pudding mix
1 package (10 ounces) fat-free pound cake, cut into 1/2" slices
1 jar (10 ounces) all-fruit raspberry preserves (Crofters Asian or European blend spreads would be an excellent choice)
1/4 cup orange juice
3 ripe bananas, sliced
Directions:
Prepare pudding according to package directions, using fat-free milk.
Arrange a single layer of cake in the bottom a deep glass bowl.
Spread with one-third of preserves and sprinkle with a generous tablespoon of orange juice.
Top with one-third of banana slices and one-third of pudding.
Continue layering two more times, ending with pudding.
Cover with plastic wrap and refrigerate a few hours before serving.
This trifle gets better over time so the cake can absorb the flavors.
Nutritional Information for 1 serving:
Calories 280 (Calories from Fat 0); Total Fat 0g (Saturated Fat 0g, Trans Fat 0g); Cholesterol 0mg; Sodium 280mg; Total Carbohydrate 68g; Dietary Fiber 2g; Sugars 48g
Weight Watchers POINTS per serving = 5
Variations:
Use a lower calorie, high fiber fruit like strawberries or blueberries instead of bananas. Or use half bananas and half berries.
If you're looking for a dairy free substitute for pudding, try Nasoya Silken Creations.