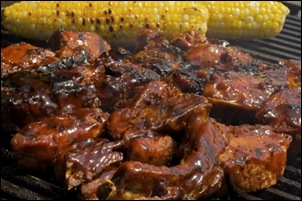 Yes, Virginia, you can eat barbecue and lose weight. Just don't eat a lot of it, use leaner cuts of meat, chicken, fish or even tofu. And make sure you include plenty of steamed or grilled vegetables on the side.
But if you don't have access to a smoker or grill, it's way too tempting to go out to a rib joint and pig out (pun intended). Instead, you can make Log Cabin Style Maple Ribs on the stove top and in the oven. Really!
Check out this recipe from my BlogHer09 Sponsor Log Cabin to learn how.